Tiger 3: Salman Khan, Katrina Kaif starrer to have first show at 7 am; booking opens on THIS day
Exciting news for "Tiger 3" fans! The first show starts at 7 am on release day due to Diwali demand, and advance bookings open on November 5. The action-packed film stars Salman Khan, Katrina Kaif, and Emraan Hashmi in a negative role, promising a thrilling experience on November 12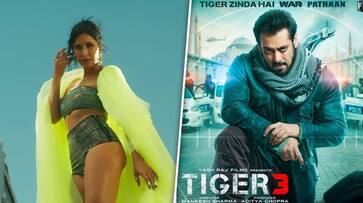 Countdown to the release of the highly anticipated movie "Tiger 3," starring Salman Khan and Katrina Kaif, has officially begun, and fans are eagerly awaiting more details about the film. The film's trailer has already generated immense buzz, and here are some exciting new updates on the movie:
First Show Timing and Advance Bookings
In a thrilling development, it has been announced that the first show of "Tiger 3" will kick off as early as 7 am on the day of its release. This decision was made in response to fans' requests and concerns about potential spoilers, especially as the film is set to hit theaters during the Diwali vacations. Fans have approached exhibitors for early morning shows, prompting the special screening time. Furthermore, advance bookings for the film are scheduled to open across India on Sunday, November 5.
About "Tiger 3"
"Tiger 3" is directed by Maneesh Sharma and produced by Yash Raj Films, promising to be an action-packed entertainer. The movie stars Salman Khan, Katrina Kaif, and Emraan Hashmi, who will be seen in a negative role. The first song from the film, titled "Leke Prabhu Ka Naam," has already been released, featuring Salman and Katrina in a lively party number set against beautiful locations. More songs from the film are expected to be released soon.
The film's plot has been teased through "Tiger Ka Message," revealing that Salman Khan's character is now labeled as 'Enemy No. 1' to the country. The trailer showcases high-octane action sequences, blending drama and romance as the characters embark on a dangerous mission. Fans can catch this highly-awaited film in cinemas on Diwali day, November 12.
ALSO READ: Deepika Padukone, Ranveer Singh enjoy Arijit Singh's smooth vocals at after-party in viral video - WATCH
With the first show scheduled for 7 am and advance bookings opening on November 5, fans of Salman Khan and Katrina Kaif can look forward to an action-packed cinematic experience in "Tiger 3." Stay tuned for more updates as the release date draws closer.
ALSO READ: Bigg Boss 17: Ankita Lokhande discloses reality of 'marriage' with Vicky Jain; Here's what she said
Last Updated Nov 1, 2023, 1:07 PM IST