Tiger 3: Salman Khan fans gear up for movie release; wear his iconic scarf in excitement
Salman Khan, a beloved Bollywood icon, sparked a fashion craze with his signature scarf in 'Ek Tha Tiger.' As the 'Tiger 3' release nears, fans eagerly anticipate his return.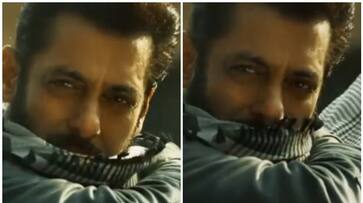 Salman Khan is a very famous actor in our country. He's so popular that anything he does becomes a big trend. People really like him, and they copy everything he does, like his dance moves, hairstyles, and the way he talks in his movies. One of the things he made popular was a special scarf he wore in 'Ek Tha Tiger' in 2012.
This scarf became very famous all over the country, and people loved it. Now, as the release date of Salman Khan's new movie, 'Tiger 3', is getting closer, people are waiting in anticipation. Looking forward to seeing Salman Khan as Tiger again, many Salman Khan look alike have started wearing the same scarf to show their love for him.  In the recently released teaser and trailer for 'Tiger 3' also Khan was seen donning it.
 Salman Khan is getting ready for the big release of 'Tiger 3', where he's acting alongside Katrina Kaif, Emraan Hashmi, and Riddhi Dogra. This movie will come out in theaters on November 12, 2023, and it will be available in Hindi, Tamil, and Telugu languages. People are really excited about this movie!
ALSO READ: Farrey: Salman Khan unveils fresh poster, trailer release DATE of niece Alizeh Agnihotri's debut film
Last Updated Oct 31, 2023, 5:08 PM IST