'Tiger 3' poster unveiled: Salman Khan, Katrina Kaif, Emraan Hashmi exude confidence in fresh look
Fans are buzzing with anticipation for "Tiger 3" starring Salman Khan, Katrina Kaif, and Emraan Hashmi, as the poster reveals an action-packed cinematic treat, hitting theaters on November 12, 2023.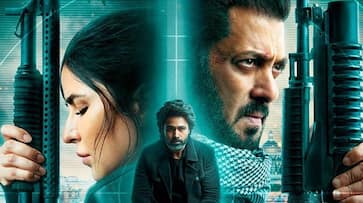 The recently revealed poster for the highly anticipated "Tiger 3" movie, featuring Katrina Kaif, Salman Khan, and Emraan Hashmi, has stirred up a lot of excitement. It's scheduled to hit theaters on November 12, 2023, and it's expected to be a fantastic cinematic experience.
In the poster, Katrina looks really confident, and she's embodying her iconic role from the "Tiger" series. The poster was recently shared on their social media account with a caption. The film is being directed by Maneesh Sharma, and it's promising to be an incredibly thrilling masterpiece. It's bringing together Katrina Kaif's exceptional acting, Salman Khan's magnetic charm, and Emraan Hashmi's menacing presence.
Fans are especially looking forward to seeing Katrina reprising her role as Zoya, and they're getting ready for some intense and action-packed scenes that are sure to keep the audience glued to the screen. As the release date gets closer, fans are getting more and more excited, eagerly waiting for this trio to return to the big screen and create some movie magic.
So, mark your calendars for November 12, 2023, and get ready for an exceptional cinematic adventure. The anticipation is growing, and "Tiger 3" is just the exciting start to a season of blockbuster entertainment.
ALSO READ: Tiger 3: What is YRF spy universe? Read about released and upcoming films
Last Updated Oct 18, 2023, 1:04 PM IST