Tiger 3: What is YRF spy universe? Read about released and upcoming films
Explore the YRF Spy Universe: A thrilling world of action-packed espionage films with stars like Salman Khan, Shahrukh Khan, Hritik Roshan.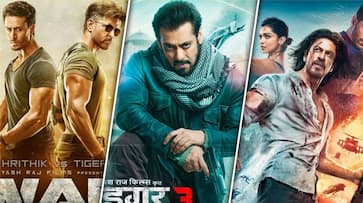 Today the trailer for much anticipated film "Tiger 3" finally dropped and it has taken internet by storm. Starring Salman Khan and Katrina Kaif the trailer has promised an action-packed sequel to the previous installments "Tiger Zinda Hai" and "Ek tha tiger". "Tiger 3" also marks the fifth film of YRF spy universe. YRF (Yash Raj Films) spy universe, owned by YRF studio and created by Aditya Chopra features a film universe around stories of fiction RAW agents. 
A film universe has multiple films featuring stories of different lead heroes. The stories of these films usually lead to a big crossover event film in which all the heroes come together. This universe promises to bring a mind-blowing experience to audience with its espionage thriller films that star an ensemble of famous actors like Shahrukh Khan, Hritik Roshan, Tiger Shroff. Here is a complete list of released and upcoming films of this universe:
Released Films
1. Ek Tha Tiger: The first film of the universe directed by Kabir Khan stars Salman Khan as 'Tiger' and Katrina Kaif as 'Zoya' While Tiger is an Indian agent to intelligence agency RAW, Zoya is a spy for Pakistani agency. The film's plot revolves around how the two of them works in a joint mission to investigate and thwart a potential threat that could jeopardize the security of both nations. As the narrative unfolds, they develop profound connection and ultimately fall in love. The film was highest grossing in 2012 and did a business of whooping 300 crores.
2. Tiger Zinda Hai: After the phenomenal success of its prequel, 'Tiger Zinda Hai' continues the story of Tiger and Zoya, as they are sent to middle east to rescue kidnapped hostages belonging to both India and Pakistan, from the captivity of a terrorist. This time it was directed by Ali Abbas Zafar. The film grossed over 5 billion at the box office.
3. War: "War" is a Bollywood action movie directed by Siddharth Anand. In the film, Hrithik Roshan plays Kabir, who used to be an Indian soldier but has now become a troublemaker. Tiger Shroff portrays Khalid, a young soldier given the job of stopping Kabir. The story is all about Khalid's mission to find and catch Kabir, who has gone rogue and is causing problems for the Indian intelligence agency. The film did a business of over 400 crores.
4. Pathan: The 2023 film Pathan stars Shahrukh Khan in the titular role as a RAW agent, while Deepika Padukone as Rubina Mohsin, an ISI agent. The film plot revolves around how they come together to stop Jim, played by John Abraham as he plans to attack India. The film was a superhit grossing over 1000 crore all over the world.

Upcoming Films
1. Tiger 3: The third installment of "Tiger' series, the film is slated to release on 12 november this year. The film is directed by Maneesh Sharma and produced by Aditya Chopra under YRF. Its recent trailer has created a huge buzz among the fans.
2. War 2: Sequel to the 2019 film, this movie will be directed by Ayan Mukherji, and will feature Hritik Roshan and Jr. NTR in the lead roles. The film's production is said to begin in november 2023.
3. Tiger VS Pathan: Salman Khan and Shah Rukh Khan are about to join forces in the upcoming movie titled "Tiger Vs Pathaan" within YRF's spy universe. As reported by Pinkvilla, the screenplay for this film has been finalized, and filming is scheduled to commence in March of the following year. 
Furthermore, following the tremendous success of "Pathan," during an event associated with the movie, director Siddharth Anand dropped hints about a potential sequel. Shahrukh Khan, in response, expressed his willingness and honor to be part of the sequel.
ALSO READ: Salaar: Prithviraj Sukumaran's first look poster OUT on star's 41st birthday
Last Updated Oct 16, 2023, 8:07 PM IST