The Railway Men teaser OUT: R. Madhavan, Kay Kay Menon shines in mini-series based on Bhopal gas tragedy
Netflix releases a chilling teaser for "The Railway Men" web series, starring Kay Kay Menon and R. Madhavan, depicting unsung heroes during the Bhopal Gas Tragedy. Premiering on November 18, it marks a partnership between Netflix and Yash Raj Films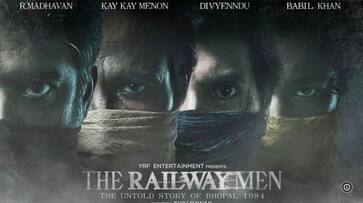 Netflix has unveiled a spine-chilling teaser for the upcoming web series "The Railway Men," featuring stars Kay Kay Menon and R. Madhavan. Earlier, the streaming giant had released an intriguing poster for the show, and now this teaser has left fans with goosebumps.
On a recent Saturday, Netflix shared the thrilling teaser on its Instagram account. The teaser offers a glimpse into the lives of four unsung heroes who played a crucial role in evacuating people during the Bhopal Gas Tragedy. The teaser showcases Kay Kay Menon as the Stationmaster, Babil Khan, R. Madhavan, and police officer Divyendu, depicting their heroic efforts to rescue the people of Bhopal from a hazardous gas leak at a chemical factory.
Set against the backdrop of the Bhopal Gas Tragedy, considered the world's worst industrial disaster, "The Railway Men" is a four-episode series directed by debutant director Shiv Rawail. The series narrates the tale of unsung heroes, the railway employees of India, who went above and beyond the call of duty to save the lives of countless innocent citizens trapped in a city gripped by helplessness.
ALSO READ: Sunil Shetty shares photo with son-in-law KL Rahul; Athiya Shetty comments with heart emoji [WATCH]
This series also marks the beginning of an iconic partnership between Netflix and Yash Raj Films (YRF). "The Railway Men," featuring Babil Khan, Kay Kay Menon, Divyendu, and R. Madhavan, is all set to premiere on November 18th.
Last Updated Oct 28, 2023, 1:07 PM IST