Tejas star Kangana Ranaut gets trolled as she visits Dwarkadhish temple, one netizen says, "Bas reel banao...'
Following the disaster of her most recent film, Tejas, Kangana Ranaut, who will next be seen directing her own film called Emergency, recently paid a visit to the famous Dwarkadhish temple. But as soon as she posted her article, several online users began brutally trolling her.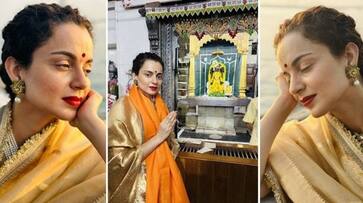 Kangana Ranaut made a hint that she has been having problems lately. Her admission coincides with her film Tejas' underwhelming box office performance. Kangana said on Instagram and X that she took a plane to the Shree Dwarkadhish Temple in Gujarat to get some solace. She revealed pictures from the trip and said she had been experiencing inner anguish for the last several days, but that she is now at peace as a result of her visit to the temple.
For a few days, I had a very troubled heart and wanted to travel to Dwarkadhish. However, as soon as I arrived at this sacred city of Shri Krishna, Dwarka, the dust there made it seem as though all of my problems had crumbled to the ground and fallen at my feet. I had limitless bliss and my thoughts stabilised. Oh Dwarka's Lord, continue to provide favours like this.
Also Read: Kareena Kapoor Khan channels her inner boss-lady vibes; reveals her love for chocolate brownie
In her post, she wrote, ''My heart was very troubled for some days, I felt like visiting Dwarkadhish, as soon as I came to this divine city of Shri Krishna, Dwarka, just by seeing the dust here, it felt as if all my worries had fallen apart and fallen at my feet. My mind became stable and I felt infinite joy. Oh Lord of Dwarka, keep your blessings like this. Hare Krishna.''
In the video and pictures, Kangana can be seen wearing a yellow-coloured saree.
Also Read: Vijay Mallya's son Sidhartha Mallya gets engaged at Halloween party (Photos)
Netizens reaction
Soon after she posted, social media users started reacting to her post and trolled her brutally in the comment section. One user wrote, ''It is important to get peace of mind after losing the money of so many people. Maharaja ji did some miracle for your flop film #TejasMovie.''
Another user wrote, ''There is not even a single Tejas show going on in my place, so please send me the telegram link, I am not able to sleep.''
''U need to make one more trip after release of Emergency,'' a third user commented.
A fourth user wrote, ''You may not find any peace, your misdeeds are coming in front of you. Your film earned 5 lakhs on the 5th day. That's how much a clothing store sells.'' 
Kangana on the work front
Kangana's next feature film, Emergency, is directed by her. She will play the part of Indira Gandhi, the former Indian prime minister. The movie will chronicle the events of 1975, when Indira Gandhi declared a state of emergency nationwide. Anupam Kher, Mahima Chaudhry, Milind Soman, Shreyas Talpade, and the late actor Satish Kaushik will also feature in the movie. Kangana is also producing the project.
 
Last Updated Nov 3, 2023, 10:31 AM IST