Tejas: Kangana Ranaut meets NSA Ajit Doval on flight during her film promotion
Kangana Ranaut aka Tejas Gill met Ajit Doval during the promotion of Tejas, says, "I got to meet sir who is every soldier's inspiration" She will attend the Delhi Luv Kush Ramleela.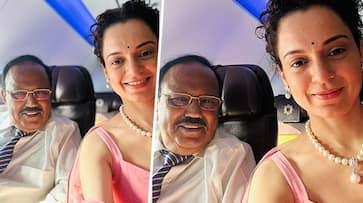 Tejas is slated to be released this week, and audiences are eager to see this one-of-a-kind action entertainment on the big screen. As the film is ready to tell the narrative of an Indian soldier's unbreakable spirit, Kangana Ranaut's fate appears to have wrapped her in the same. Call it a mere coincidence that the lead actress met the man who is an inspiration to every soldier, Ajit Doval, the National Security Advisor of India. 
Kangana Ranaut was travelling for Tejas's promotions when she chance to encounter India's National Security Advisor, Ajit Doval, who was also on the same aircraft. Without further ado, the actress took pictures with 'The Coolest Indian on the Planet,' Ajit Doval, and posted them on social media. She continued to convey her delight in the caption writing - 
Also Read: Vijayadashami 2023: Kangana Ranaut to burn Raavan's effigy at Delhi's Luv Kush Ramleela
"What a generous stroke of luck, aaj subah flight mein I got to sit next to non other than the greatest of all time Shri Ajit Doval ji, while promoting Tejas (a film dedicated to our soldiers) I got to meet sir who is every soldier's inspiration I consider this a great omen, Jai Hind"
The Queen's fans loved the photos. A fan wrote on X, "Great Luck..I always believe. He is invisible." Another said, "Promotion with the real GOAT.." One more called it a "fan moment of a celebrity". "You are lucky Madam," wrote a fan. 
Also Read: THROWBACK: When Anushka Sharma opened up about her 'cold war' with Deepika Padukone
An X user also wrote, "You are Lucky to meet The Legendary #AjitDoval . He is very humble and spiritual person." Some also found the pictures to be special because of Ajit flashing a rare smile at the camera. "Never thought I would see Ajit Doval smile!" read a comment. Many also hailed Ajit Doval as "The real James Bond".
Kangana is now promoting Tejas, an aerial action flick. The video follows the incredible journey of an Air Force pilot named Tejas Gill, who aspires to inspire and instill a profound feeling of pride in every Indian by demonstrating how Indian Air Force pilots fight relentlessly to defend our country while facing multiple obstacles. The film, written and directed by Sarvesh Mewara and produced by Ronnie Screwvala, is set to hit theatres on Friday October 27.
Last Updated Oct 24, 2023, 12:25 PM IST