Tamil superstars Thala Ajith, Thalapathy Vijay come together, thanks to director Venkat Prabhu
To bring fans of both Thalapathy Vijay and Thala Ajith Kumar together, Tamil director Venkat Prabhu shared a throwback picture of these stars posing together. The director did this to send the message of 'brotherhood' across Tamil Nadu amidst corona crisis to mark World Sibling Day.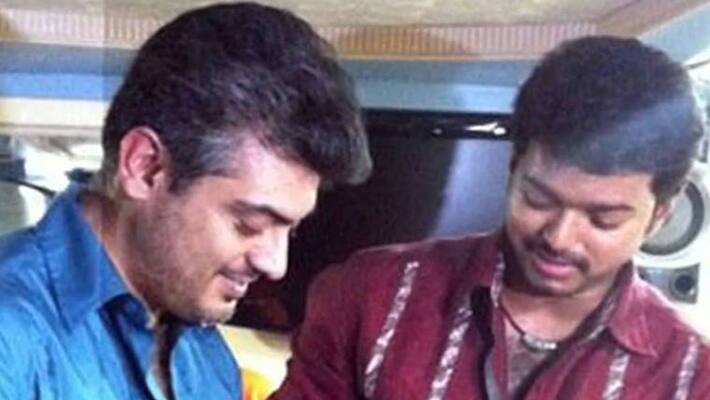 To bridge the gap between warring factions - fans of Tamil superstars Thalapathy Vijay and Thala Ajith - during the time of corona crisis, director Venkat Prabhu has shared a picture of the two stars posing together.
The picture was taken when Vijay called upon Venkat Prabhu, who was shooting the film Mankatha, starring Ajith, then. 
The director did this to send a message of bonding and 'brotherhood' as the day marks World Sibling Day. 
The picture is apt at the moment as unity is the need of the hour. The fans who troll each other as usual need to bury their differences as the bigger threat at present is the coronavirus, which is spreading by the day and Tamil Nadu is the second most-hit with over 600 cases. 
It is also interesting to know that both the stars are good family friends. The last time they came together for a project was for Rajavin Parvainile in 1995. 
With this picture, Venkat Prabhu may also be hinting at bringing the two stars together once again for a film. Only time will tell. 
 
Last Updated Apr 11, 2020, 11:12 AM IST