Taare Zameen Par actor Darsheel Safary's honest explanation for not seeking work from Aamir Khan; Read details
Darsheel Safary, known for his role in "Taare Zameen Par," discussed his career and working with Aamir Khan. He revealed his shyness in pursuing projects with Khan but expressed eagerness to collaborate again. He has upcoming films like "Hukus Bukus," "Kashti," and "Kashmir – Enigma of Paradise."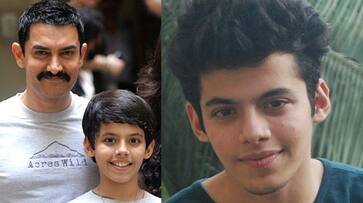 Darsheel Safary, the young actor who left a lasting impression with his role in "Taare Zameen Par," recently shared insights into his career and working with Aamir Khan. In a candid conversation with RJ host Siddharth Kannan, Darsheel Safary explained why he didn't actively seek more projects with Aamir Khan after his debut film. The 26-year-old actor admitted to feeling shy and awkward about pursuing such opportunities, emphasizing his belief in earning them through hard work.
"I am very shy and get awkward about all these things," Darsheel confessed. He revealed that people often advised him to reach out to Aamir Khan, but he found it uncomfortable. Darsheel stressed the importance of opportunities arising naturally.
Darsheel Safary also revealed, "In fact, after 'Taare Zameen Par,' almost every project I've been a part of, somehow, the news reached Aamir that I'm working on it. It's usually to seek his blessings." He expressed his eagerness to collaborate with Aamir Khan on a movie if the chance ever arises, stating, "I really want to show him what I've become, with his guidance."
In the film "Taare Zameen Par," Darsheel Safary portrayed the character of Ishaan Awasthi, a young boy grappling with dyslexia. Aamir Khan, on the other hand, played the pivotal role of Ram Shankar Nikumbh, an art teacher who played a significant role in boosting Ishaan's self-esteem and aiding him in overcoming his dyslexia.
On the professional front, Darsheel Safary has an exciting lineup of projects. He is set to grace the silver screen in director Vinay Bhardwaj's sports drama, "Hukus Bukus." Additionally, Darsheel Safary will be appearing alongside Lehar Khana and Ishan Saxena in the upcoming short drama "Kashti." Furthermore, he is preparing for an exciting role in Atul Garg's action-packed adventure film, "Kashmir – Enigma of Paradise.
Darsheel Safary has showcased his versatility as an actor in various films, including "Bumm Bumm Bole," "Zokkomon," and "Capital A Small A." His most recent appearance was in "Kutch Express.
ALSO READ: Cricket World Cup 2023: Anushka Sharma celebrates as Virat Kohli, KL Rahul steer India towards victory
Last Updated Oct 9, 2023, 11:41 AM IST