Sonam Kapoor, Anand Ahuja REVEAL their baby boy's name; here is what it means
Actor Sonam Kapoor and Anand Ahuja have revealed the name of their newly born baby boy. Along with their child's name revelation, the parents also shared the meaning behind their son's name. Hint, it has to do with Lord Hanuman and Bheem.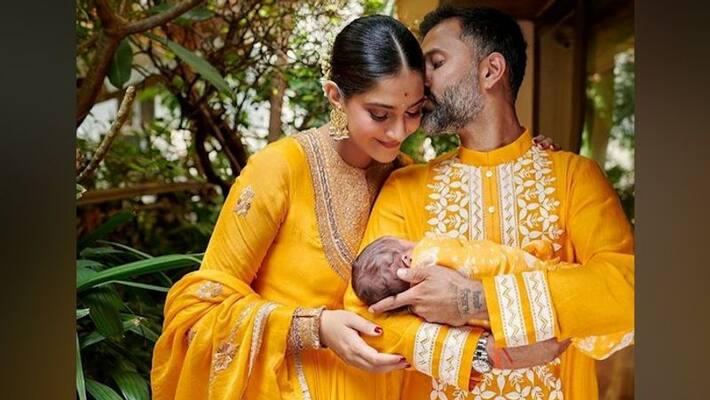 Actor Sonam Kapoor and her businessman husband Anand Ahuja welcome their first baby on last month on August 20. As their baby boy turns a month old, the proud new parents have revealed their son's name.
Taking to Instagram, Sonam Kapoor on Tuesday revealed that the couple have named their baby boy 'Vayu Kapoor Ahuja'. "In the spirit of the force that has breathed new meaning into our lives... In the spirit of Hanuman and Bheem who embody immense courage and strength... In the spirit of all that is sacred, life-giving and eternally ours, we seek blessings for our son, Vayu Kapoor Ahuja."
"In Hindu scriptures Vayu is one of the paanch tatvas. He is the deity of breath, the spiritual father of Hanuman, Bheem and Madhav and He is the incredibly powerful lord of wind. Praana is Vayu, a guiding force of life and intelligence in the universe. All the deity's of Praana, Indra, Shiva and Kali relate to Vayu. He can breathe life into beings as easily as he can destroy evil. Vayu is said to be heroic, brave and mesmerisingly beautiful. Thank you for your continued wishes and blessings for Vayu and his family," she further wrote in the post, explaining the meaning behind their son's name.
Check out here post here: 
 
Along with the post, Sonam Kapoor shared an adorable picture of herself, her husband Anand Ahuja and their baby boy in which all three of them were seen colour-coordinated in yellow. Within 30 minutes of the pictures being shared on Sonam's Instagram handle, it received over 86,000 likes and counting. Several actors including Disha Patani and Esha Gupta took to the comments to congratulate the parents and baby Vayu. The proud grandfather, Anil Kapoor was also quick in reacting. "❤️❤️❤️❤️❤️❤️❤️❤️❤️❤️🤗🤗🤗🤗🤗🤗🤗🎉🎉🎉," wrote Anil.
ALSO READ: Richa Chadha-Ali Fazal wedding: 175-year-old Khajanchi family to make ornaments for the actress
ALSO READ: 'Maroon 5' singer Adam Levine allegedly cheats on pregnant wife; wants to name baby after his mistress?
Last Updated Sep 20, 2022, 6:46 PM IST