Selena Gomez faces minor wardrobe mishap following electrifying Coldplay concert with Chris Martin and H.E.R
Selena Gomez's relatable fashion mishap, stage triumph with Coldplay, and candid dating standards reveal her authenticity and charm to fans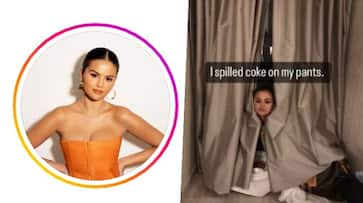 Selena Gomez experienced a relatable fashion mishap that many of us can empathize with. On October 2nd, the "Lose You to Love Me" singer accidentally spilled Coke on her pants and humorously shared the incident on her Instagram Story.
In an attempt to conceal the stain, Selena came up with a clever solution. She posted a photo in which she was sitting on the floor, with only her face visible through the curtains. Her outfit and the soda stain were expertly hidden, but a conspicuous Louis Vuitton bag peeked out from the drapes.
However, before this little hiccup, Selena had wowed the audience with a captivating performance at Coldplay's Rose Bowl show in Pasadena, California, on October 1st. She surprised everyone by taking the stage alongside the talented artist H.E.R. to perform their 2021 collaboration, "Let Somebody Go."
Selena's excitement was palpable as she shared clips of this special moment on her Instagram Story. The videos showcased her walking onto the stage, receiving a warm smile from Chris Martin, and being met with thunderous applause from the audience. Selena looked stunning in a long-sleeved black bodycon dress adorned with silver details and complemented by black lace tights. She even posted a selfie to give her fans a closer look at her outfit, expressing her gratitude in the caption, saying, "Thank you @coldplay @hermusicofficial for an amazing night."
Selena Gomez is known for her authenticity and candidness with her fans. She doesn't shy away from sharing playful mishaps or her dating preferences. After releasing her latest song, "Single Soon," in August, she expressed her gratitude to her fans and described the track as a fun anthem about embracing one's true self and relishing solitude.
ALSO READ: Dunki update: Is Shah Rukh Khan, Taapsee Pannu starrer based on India-Canada immigration issue? Read details
In an August interview with SiriusXM Hits 1 LA's Tony Fly and Symon, Selena opened up about her dating standards. She confidently stated, "I know I'm a little high maintenance, but I'm worth a try." She added that the line in her song was all in good fun, emphasizing that she has clear expectations and requirements for any potential partner. Selena Gomez's honesty and authenticity continue to endear her to her fans, making her a relatable and beloved figure in the entertainment industry.
Last Updated Oct 3, 2023, 11:34 AM IST