Rashmika Mandanna's recent photo erupts live-in rumours with rumoured BF Vijay Deverakonda - READ
According to a VIRAL Reddit post posted by a user, it unofficially confirms that the long-time and ongoing rumours of Vijay Deverakonda and Rashmika Mandanna's relationship are all legit and that the rumoured couple has a live-in relationship with each other.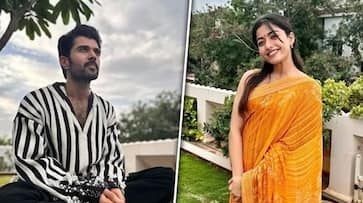 Rashmika Mandanna has fans convinced that she is reportedly living with Vijay Deverakonda. According to a viral post on Reddit, The new Instagram photo of Rashmika was taken at the terrace of Vijay Deverakonda-residence in Hyderabad. In the picture, Rashmika is all smiles as she looks gorgeous in a stunning saree. However, what caught the quick attention of netizens was the backdrop in the photo, which was pretty much similar to that of a recent picture of Vijay, where he is striking a pose on the terrace of his bungalow.
As soon as the post went viral on the internet, fans began speculating that the duo was together in real life. One fan commented, "I am saying that they have been living together for at least 3-4 years now." Another one said, "Heard that they are engaged. Not sure how true this is."
ALSO READ: Divya Spandana: News spread across Social platforms about Ramya's death is fake
Rashmika and Vijay Deverakonda unofficially confirming that they're living together 🤫
by u/kokkachi13 in BollyBlindsNGossip
Meanwhile, Vijay recently said that he believed in the institution of marriage. He confessed that he sees himself as a married man in the near future. However, he remained tight-lipped about his partner. At the trailer launch of Kushi, Vijay said, "I think I have become comfortable with the idea. Before marriage was a word that no one was allowed to say around me. It would immediately agitate and irritate me. But now, I am having conversations about it. I am enjoying watching my friends being married. I am enjoying the happy marriages. I am enjoying the troubled marriages. Everything is entertaining. But I hope to have a married life of my own. It is a chapter in life that everyone should experience."
Rashmika Mandanna and Vijay Deverakonda often grab headlines for their romance rumours. Their undeniable chemistry has been the topic of discussion on social media ever since they starred together in movies like Geetha Govindam and Dear Comrade.
ALSO READ: Rashmika Mandanna attends wedding of assistant in graceful simple attire; pens down heartfelt wishes
Last Updated Sep 6, 2023, 12:52 PM IST