Paulo Coelho goes gaga over Shah Rukh Khan's Pathaan; superstar replies to author calling him 'kind friend'
Shah Rukh Khan has been the centre of attention ever since he returned to the big screen with Pathaan after an almost four-year absence. Celebrated author Paulo Coelho, praised the Pathaan star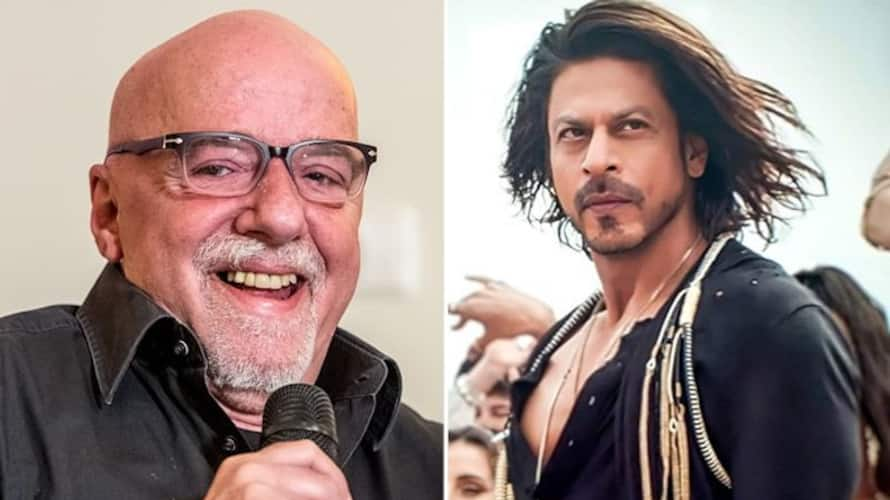 Shah Rukh Khan has been the centre of attention ever since he returned to the big screen with Pathaan after an almost four-year absence. Fans adore him not only for his screen presence but also for his amazing abs, which he flaunts in the film, and everything else. This film not only shattered all box office records but also won overall fans' hearts.
Several Bollywood celebs have praised the film starring SRK, Deepika Padukone, and John Abraham. After seizing a big opening, SRK decided to surprise fans by appearing outside Mannat. On January 30, he was spotted thanking a throng of admirers stationed outside his house for their overwhelming support. Yesterday, acclaimed novelist Paulo Coelho, who is frequently seen supporting King Khan, responded to the film starring him and his ardent supporters. The celebrity reacted to his tweet today.
Also Read: Is Mohanlal's 'Ram' plot similar to Shah Rukh Khan's 'Pathaan'? Here's what Twitterati found
Shah Rukh Khan responds to Paulo Coelho
Paulo Coelho rushed to Twitter yesterday to post a video of SRK addressing his fans. He referred to him as a 'legend,' a 'friend,' and a 'great performer'. The author also urged people in the West to view his film 'My Name is Khan'. Today King Khan replied to Paulo's tweet and wrote, "You are always too kind my friend. Let us meet up sooner than soon!! Bless you." 
The video Paulo tweeted was originally shared by SRK, where he is seen greeting his fans. Along with it, he wrote, "Mehmaan Nawaazi Pathaan ke ghar par… Thank u all my Mehmaans for making my Sunday so full of love. Grateful. Happy. Loved." 
Also Read: Thalapathy 67: Sanjay Dutt, Trisha to join Vijay in Lokesh Kanagaraj's next film
Shah Rukh Khan on Pathaan 2
Shah Rukh assured that if Siddharth comes up with a sequel, he will be 'bigger and better'. Since Pathaan is a part of YRF's spy universe, the audience can expect the second part too. Speaking about the same, Khan said, "Inshaallah whenever he (Sid) wants me to do Pathaan 2, I'll be bigger and better. I just want to say thank you to him and Adi for giving me Pathaan, and whenever they want me for the sequel I'll try and give it my best."
Last Updated Feb 3, 2023, 10:25 AM IST