Parineeti Chopra, Raghav Chadha's sangeet night: 90s music, Navraj Hans, maggi counters and more
Parineeti Chopra and Raghav Chadha will marry on September 24. We have some unique information on their sangeet ceremony, which took place on September 23.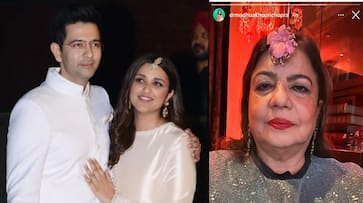 Today, September 24, Parineeti Chopra and Raghav Chadha will marry. On September 23, the couple held their 'haldi' and ' sangeet' ceremonies in the presence of their close family members. While a few exclusive footage from the Haldi ceremony was enough to thrill fans, we also have some insights on what went into their unforgettable sangeet evening.
According to reports, Parineeti and Raghav arranged a musical evening themed in the 90s for their friends and family members. Family members, as well as Aam Aadmi Party leaders Arvind Kejriwal and Bhagwant Mann, were present. The evening began between 9 and 10 p.m. at The Leela in Udaipur. According to reports, Parineeti arranged the entire sangeet evening.
Also Read: Parineeti, Raghav Wedding: Know bride and groom's educational qualifications and more

"Parineeti herself curated the music list and the entire evening." At the entryway, there were cassettes with attendees' names and a unique greeting written by Pari herself. "The evening's menu is also fun, with options like chaat, popcorn, Maggie, and more," they say.

DJ Navraj Hans was in charge of the music, and he kept the attendees fascinated. Videos from the evening are already making their way across the internet.
The big time has finally arrived! Parineeti Chopra and Raghav Chadha, who have sparked much interest with their love, will marry on September 24 in Udaipur. The wedding will be a lavish ceremony attended by a number of celebrities and notable figures. The wedding will take place at The Leela Palace.

Meanwhile, today's wedding festivities will begin about 1 p.m. with the AAP MP's sehrabandi. The Leela Palace will host Parineeti's choora ceremony at the same time. Following that, at roughly 2:30 p.m., the baarat procession will board a boat and travel to the adjacent hotel, Leela.
Also Read: Parineeti Chopra-Raghav Chadha wedding: Check out exciting updates
Preparations for this are already underway. It is reported that the décor of the boats would also reflect Mewar culture. The pheras will take place at 4 p.m., and the couple will throw a spectacular wedding party at The Leela Palace that will be styled in black tie.
Last Updated Sep 24, 2023, 10:39 AM IST