Parineeti, Raghav Wedding: Know bride and groom's educational qualifications and more
Raghav Chaddha- Parineeti Chopra Wedding: Explore Parineeti Chopra's remarkable educational journey from Ambala to the UK, her career shift from marketing to Bollywood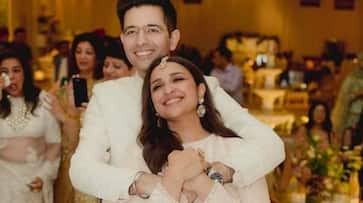 Raghav Chadha and Parineeti Chopra are all set to tie the knot on September 24 in the beautiful city of Udaipur. The couple, known for their high-profile status, has already arrived in Udaipur to make final preparations for their much-anticipated wedding celebration. The wedding invitation has officially unveiled that the festivities will span across two days and promise to be a grand affair. All the guests, both from the world of showbiz and politics, have converged in the picturesque Rajasthani city to partake in the joyous celebrations.
Amidst the buzz of wedding preparations, let's take a closer look at Parineeti Chopra's educational journey.
Parineeti Chopra's Educational Background:
Parineeti Chopra's educational journey commenced at the esteemed Convent of Jesus and Mary in Ambala, where she began her schooling. Remarkably, at the age of just 17, she ventured to England for higher education, where she went on to graduate with flying colors. She earned a triple honours degree in business, finance, and economics from the renowned Manchester Business School. Notably, even during her time in Manchester, Parineeti Chopra played a pivotal role in assisting new students during their university orientation.
Adding to her impressive academic pursuits, Parineeti is also a trained classical singer and holds a B.A. Honours degree in music. Her deep-rooted passion for music was evident from her early years when she graced the stage alongside her cousin, the illustrious Priyanka Chopra.
Upon returning to India in 2009, Parineeti relocated to Mumbai and embarked on her professional journey. She secured an internship in the marketing department of the prestigious Yash Raj Films. This marked the beginning of her association with the film industry, as she joined the company as a PR consultant.
However, destiny had other plans for Parineeti. It was during the promotional activities for the film "Band Baaja Baaraat" that she had an epiphany and realized her true calling was to become an actress. Subsequently, she made the bold decision to resign from her executive position at Yash Raj Films and took a leap of faith by enrolling in an acting school to pursue her dream of gracing the silver screen.
In a twist of fate, Parineeti gave a dummy audition for fun, reciting lines from the character Geet in "Jab We Met." Her audition tape caught the attention of YRF producer Aditya Chopra, who was thoroughly impressed with her acting prowess. This pivotal moment led to Parineeti Chopra being signed for a 3-film deal with Yash Raj Films, catapulting her into the world of cinema. Since then, she has been on an unstoppable journey, earning acclaim and admiration for her acting skills.
Raghav Chaddha's Educational Background:
He is a graduate of Modern School, Barakhamba Road, and an alumna of the University of Delhi (DU). At the age of 33, he also possesses a Chartered Accountancy degree from the Institute of Chartered Accountants of India and has completed a certification course in Executive Master of Business Administration (EMBA) from the London School of Economics.
Before launching his political career as a Delhi MLA, Raghav Chadha gained valuable experience working at esteemed accountancy firms, including Deloitte, Shyam Malpani, and Grant Thornton. He is a practicing Chartered Accountant (CA) with a solid foundation in financial expertise.
At the youthful age of 26, he secured victory in the 2015 Delhi Legislative Assembly election as a candidate of the Aam Aadmi Party (AAP) and subsequently assumed the role of the party's national treasurer.
In 2016, he took on the role of advisor to Delhi's Deputy Chief Minister, Manish Sisodia, where he played a crucial role in the formulation of the 2016-17 budget while receiving a nominal salary of just Rs. 1 per month.
Although he faced defeat in the 2019 Lok Sabha elections when contesting against BJP's Ramesh Bidhuri for the South Delhi Parliamentary Constituency, Raghav Chadha's determination remained unwavering.
In the 2020 Delhi Legislative Assembly election, he contested from the Rajendra Nagar constituency, defeating BJP's RP Singh to secure his seat. Subsequently, he was appointed as the vice-chairman of the Delhi Jal Board (DJB) and entrusted with a vital water portfolio within the Delhi Government.
Now, his political journey has taken a new turn as he has been nominated as one of the five candidates for AAP's Rajya Sabha candidacy from Punjab, marking another significant milestone in his evolving political career.
Last Updated Sep 23, 2023, 3:02 PM IST