Parineeti Chopra-Raghav Chadha wedding: Check out exciting updates on groom's royal and regal ensemble outfits
Parineeti Chopra and Raghav Chadha are set and ready to get married in a big-fat Punjabi royal destination wedding at Udaipur, Rajasthan, on September 24. According to new updates, the uncle of AAP politician and fashion designer Pawan Sachdeva has spilt inside scoop related to Raghav's wedding outfits in a recent interview with a prominent Indian entertainment portal.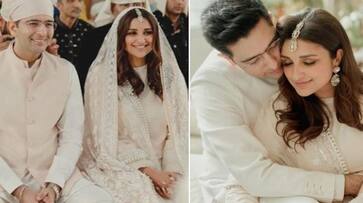 Parineeti Chopra and Raghav Chadha are all set to tie the knot in Udaipur's 'The Leela' on September 24. The guests and family members are arriving for the wedding. Today, on September 23, the couple can likely commence their vibrant pre-wedding soirees, starting with the haldi ceremony. The 'Chooda' rasm is most likely to happen tomorrow, according to exclusive updates by a leading Indian entertainment portal. We are gearing up for another grand Bollywood shaadi! Parineeti Chopra and Raghav Chadha will be getting married on September 24 in Udaipur, and we can't wait for their wedding photos.
ALSO READ: Parineeti Chopra, Raghav Chadha wedding: Here are exciting updates on 'Chooda' ceremony of the bride-to-be
The big-fat traditional Punjabi wedding of lovebirds Parineeti Chopra and Raghav Chadha is the next big Bollywood event. The Ishaqzaade diva is all set to tie the knot with the politician on September 24. Tomorrow, the actress and AAP Politician will tie the knot for life. The wedding will take place in Udaipur at The Leela Palace. Baraatis have already touched base. The wedding celebrations have already commenced with vibrant mehendi rasm that is taking place today. While there is a lot of secrecy around the wedding deets, here's something about the groom's outfit.
In an interview with a leading Indian entertainment portal, Pawan Sachdeva, uncle of groom Raghav Chadha and his stylist shared some insight into the groom's outfit. Pawan Sachdeva said that Raghav Chadha likes to be simple. He does not wear flamboyant or flashy outfits. Even for the wedding, he has opted for simple yet sophisticated looks. He added that Raghav Chadha likes to wear fitted clothes that suit his 'princely looks'. The groom's wedding outfits include tuxedos, sherwani, kurtas with jackets and more. Pawan Sachdeva has been quoted saying, "Keeping all that in mind and following the theme, we have made the attire. And the looks would be sherwani, tuxedos, indo-westerns, asymmetrical kurtas with jackets, and bundi and kurtas, what he likes to wear."
Pawan Sachdeva also added that Raghav Chadha chooses his own outfits and that it is difficult to make anything for him. Therefore, he made multiple outfit options and let Raghav Chadha choose whatever he wanted to wear. He asserted that Raghav Chadha's outfits are simple, subtle and classy yet have the Punjabi wedding vibe.
ALSO READ: Where is Priyanka Chopra? Will PeeCee attend Parineeti Chopra, Raghav Chadha's wedding in Udaipur? WATCH
Last Updated Sep 23, 2023, 12:49 PM IST