Oscars 2020: Here are 5 reasons why you must watch Jojo Rabbit
Here are 5 reasons why this Taika Waititi's globally applauded film needs to be at the top of your watch list this month.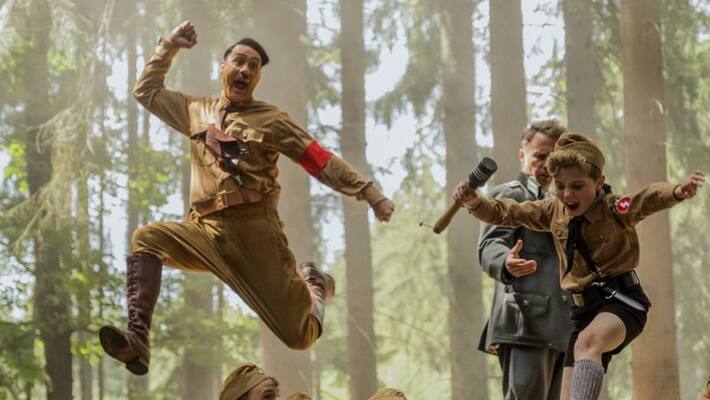 Get set to be treated to an abundance of humour and satire of Germany during World War II with Fox Searchlight's Jojo Rabbit. A top contender for the Academy Awards with 6 nominations, the film sure has got everyone excited. Having scooped the People's Choice Award at the Toronto International Film Festival, here are 5 reasons why this Taika Waititi's globally applauded film needs to be at the top of your watch list this month.
1)      A mix of the original and the bizarre
While tragedy might be the first word that comes to your mind when you realise it's a film set in the times of war-torn Germany, Taika Waititi breaks that bubble perfectly. This quirky story of a boy's imagination, filled with heart-warming characters will not only tug at the heartstrings but ensure that you'll be laughing with gay abandon. Perfectly encapsulating the mood and setting of those times with moments filled with laughter, Jojo Rabbit is a sure-shot must watch.
2)      A delight for fans of black comedy
Any film that has Hitler as one of its characters is certain to stir up controversy. But Taika, via this daring satire, manages to balance humour with the horrors of war perfectly making for a brilliant balancing act. With such a delicate topic depicted in a seamless manner, Jojo Rabbit could be a coming of age film for cinema in the black comedy genre.
3)      Scarlett Johansson plays a superhero we've never seen before

Having received plaudits aplenty for her role in Marriage Story, fans of the talented actress get to see the star in a completely different avatar ahead of her highly-anticipated release Black Widow. Audiences shall once again see the stellar star display her versatility. In the midst of chaos and nationalism, her character is one that gives ample food for thought as to what was right and wrong during the times of war.
4)      Brilliant performances by the child actors

While all the hype about the characters at the moment surrounds the talented Taika Waititi and Scarlett Johansson, we can't wait to see what the terrific trio of child actors - Roman Griffin Davis (Jojo), Thomasin McKenzie (Elsa Korr, the Jewish girl) and Archie Yates (Yorki, Jojo's best friend) have in store. What's more, with the film being shown entirely from a child's perspective, Jogo Rabbit scores high on youth and zest. If you were looking for a film that makes you feel like a child once again, Jojo Rabbit ticks all the right boxes.
5)      Taika Waititi, the man himself who can do anything

Being the captain of this ship, Taika Waititi hasn't just ticked all the above-mentioned boxes with his stellar directing skills, but ensured that with his depiction as the Fuhrer, fans really can't ask for a better reason to watch the film. As a Maori Jew, Waititi is far from the most likely candidate to play the Nazi leader. With an unconventional portrayal of Hitler, one who's jovial and understanding, he certainly did catch everyone by surprise as audiences were expecting a stern and strict version of the German leader.
With these fantastic five reasons, we're pretty sure that you certainly don't want to miss a single minute of the upcoming 6 Oscar nominated film. Catch Jojo Rabbit in the theatres near you on January 31, 2020.
Last Updated Jan 29, 2020, 2:11 PM IST