69th National Film Awards: Alia Bhatt wears her wedding saree for the awards ceremony
Alia Bhatt was dressed in the same simple ivory saree she wore to her wedding in 2022.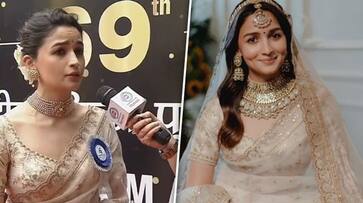 Alia Bhatt is known for her uniqueness and yet again the actress made headlines for her look. The 30-year-old is currently in New Delhi for the 69th National Film Awards Ceremony, where she will be honored for her role in the film 'Gangubai Kathiawadi'. As she rolled up to the event's red carpet, admirers couldn't help but gush and fall in love with the attire she had picked for the day. Alia re-wore her wedding saree. 
Watch
The saree was designed by Sabyasachi and she decided to wear the outfit on this very momentous occasion in her life. She was dressed in the same simple ivory saree she wore to her wedding in 2022.
Alia's decision to re-wear her wedding gown is amazing and should be praised as a rather deliberate choice. Fashionistas should take a note or two from the way she designed her appearance differently this time around than she did for her wedding.
The ivory hand-dyed organza saree was worn with a matching half-sleeved top that featured elaborate embroidery work. Alia had let her hair open during her wedding ceremony, but she decided to pull it back into a bun this time. Fans were reminded of Gangubai's attractiveness and charm by the arrangement of white roses.
About National Film Awards
The National Film Awards were founded in 1954 and are one of the most distinguished and anticipated events in the country. The Hon'ble President of India gives the prizes, which culminate in a public screening of award-winning films.
Last Updated Oct 17, 2023, 3:38 PM IST