Nana Patekar slaps fan during film shoot; viral video surprises social media users - Watch
Nana Patekar stirs headlines as a video surfaces, capturing his shocking on-set reaction to a fan's selfie attempt. Social media abuzz with astonishment at the unexpected incident.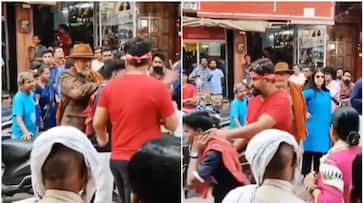 Nana Patekar found himself at the center of controversy when a video surfaced on platforms like X and Reddit, capturing an unexpected and shocking moment during the filming of the movie "Journey" in Varanasi. In the footage, the veteran actor, known for his role in "The Vaccine War," appeared to be amidst a massive crowd between takes.
In the video, a seemingly enthusiastic fan approached Nana with the intention of taking a selfie with the acclaimed actor. However, Nana's reaction was far from accommodating, and he swiftly responded by delivering a forceful slap to the individual. The abruptness of his gesture left those in the vicinity visibly stunned.
As the incident unfolded, a member of Nana's team intervened, taking hold of the man and forcibly removing him from the set while Nana observed the aftermath. The shocking episode quickly went viral on social media, prompting a wave of reactions from users. One user commented "ये लोग आम नागरिक को कीड़ा मकोड़ा समझते हैं जैसे फिल्मी लोग किसी और धरती में रहते हैं" (These people consider the common citizen as insignificant, as if the film industry resides in a different world). Another agreed with Nana's action and remarked, "Sahi kiya! People should know not to intrude."
Notably, the controversial actor, previously implicated in the #MeToo movement in India, was reportedly in the midst of shooting for the film "Journey" at the time of the incident. Recent reports had confirmed Nana's involvement in the movie, where he is set to play a significant role. Directed by Anil Sharma, renowned for his work on "Gadar" and "Gadar 2," the film also features Anil Sharma's son, Utkarsh Sharma.
ALSO READ: Varun Tej, Lavanya Tripathi travel to Dehradun for follow up reception, following celebration in Hyderabad
Last Updated Nov 15, 2023, 1:10 PM IST