Modern Family: Sofia Vergara reunites with her co-stars Jesse Tyler and Julie Bowen (Photos)
Hollywood star Sofia Vergara recently reunited with her Modern Family co-stars Julie Bowen and Jesse Tyler, and fans can't get enough of their sweet mini-reunion.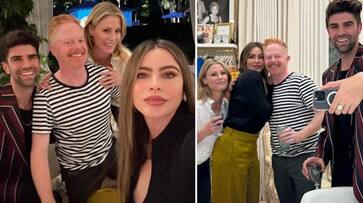 Modern Family has to be on the list of the most popular and well-written American comedies ever. The beloved series not only earned a place in the hearts of fans throughout the years, but the cast remains just as close to one another even after all these years. Sofia Vergara recently reconnected with her co-stars Julie Bowen and Jesse Tyler Ferguson, which was lovely to watch.
The actress even uploaded photos from their informal get-together at her home, in which she flaunted her expensive attire. Continue reading to learn more about Vergara's post, Bowen and Ferguson's responses, and how fans reacted to the rare meet-up.
Sofia Vergara, who portrayed Gloria Ramirez Delgado Pritchett in the popular show Modern Family, took to Instagram to post photos from their short reunion. She wrote, "Afternoon with some of my favorite people in the world! I luv u @jessetyler @justinmikita @itsjuliebowen [x3 stars]," tagging Ferguson, his husband Justin Mikita, and Bowen. The all-smiles photo was a selfie taken by the Colombian of the four of them in her outdoor lounge room.
The 51-year-old then posted three more pictures and captioned them, "Cone back soooon!!!!! [x2 stars] I missed uuu." Bowen, who played Claire Pritchett Dunphy on the show, commented on the first post, "The house is [x3 fire emojis]. Love you!!!" Her reply on the second post said, "My new happy place..." Meanwhile, Ferguson, who portrayed Mitchell Pritchett on Modern Family joked, "For once, I enjoyed being back in the closet!"
Bowen and Ferguson were cuddling as they gazed around Vergara's magnificent walk-in closet in the first photograph of the post. 
Mikita then took a photo next to rows of heels owned by the actress. The final image was a mirror selfie in which the four of them posed together. A framed black-and-white photograph of Vergara and Bowen is in the photo's background. 
Meanwhile, fans had a great time in the comments area, which was filled with jokes, emotional responses, and more. One user said, "I'm so glad the cast is close. Best show fr." A second made a show reference and wrote, "Was it a Pritchett Closet?" A third noted, "Aw she has the b&w photo of her and Claire at the back." A fourth made another joke from the show and mused, "Closets, closets, closets, closets." A fifth replied, "Will forever love you guys."
Last Updated Oct 26, 2023, 10:04 AM IST