Mission Raniganj: Akshay Kumar starrer earns Oscar submission, READ details
Mission Raniganj, produced by Pooja Entertainement and directed by Tinu Suresh Desai is a film about a real-life coal mine accident and its rescue mission. It was released in theatres on October 6th.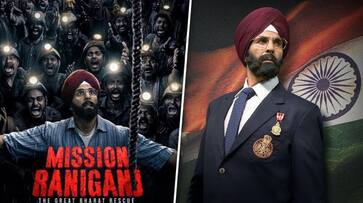 Mission Raniganj, produced by Pooja Entertainement, has garnered a lot of positive reviews from everywhere. On National Cinema Day, it became the top choice for the audience, and the theaters are packed with people who want to see it. Because of all this love and success, the creators of the film have taken a clever step by submitting it to the Oscars on their own.
The creators of "Mission Raniganj" appear to have complete ownership of the film due to its highly motivating story. To make sure of this, they have now personally entered the film for consideration at the Oscars. This is a clever and important decision because "Mission Raniganj" tells a real story about people, particularly coal miners who were in a very tough situation and were saved thanks to the brave actions of a hero named Jaswant Singh Gill.
Made by Vashu Bhagnani, Jackky Bhagnani, Deepshikha Deshmukh, and Ajay Kapoor, this movie is directed by Tinu Suresh Desai with music from Jjust Music. It aims to show the story of a coal mine accident that had a big impact not only in our country but all around the world. The movie tells the story of the rescue team, led by Jaswant Singh Gill, and it promises to provide a remarkable movie experience. It's currently playing in theaters.
ALSO READ: Shah Rukh Khan starrer Dunki to be postponed? Avoids clashing with Prabhas' Salaar? Here's what we know
 
Last Updated Oct 13, 2023, 12:03 PM IST