Shah Rukh Khan starrer Dunki to be postponed? Avoids clashing with Prabhas' Salaar? Here's what we know
Shah Rukh Khan's starrer 'Dunki' might get postponed, potentially avoiding a clash with Prabhas' 'Salaar' due to delayed post-production. However no official confirmation has been provided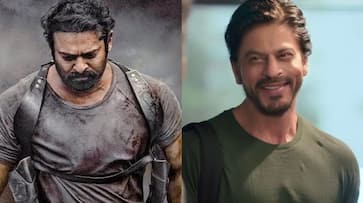 In the most recent updates, it appears that Shah Rukh Khan's highly anticipated film, "Dunki," may face a postponement, although there hasn't been an official confirmation as of yet. Earlier, Shah Rukh Khan had announced that "Dunki" was set to be released in December of this year, likely around the Christmas or New Year season. Coincidentally, Prabhas' much-awaited movie, "Salaar – Part 1: Ceasefire," was also scheduled for a December 2023 release, setting the stage for a significant cinematic clash at the Indian box office. However, according to emerging reports, the release of "Dunki" is now in doubt.
Film trade analyst Manobala Vijayabalan took to the microblogging site X (formerly known as Twitter) to share, "Buzz: #SalaarVsDunki X #ShahRukhKhan's #Dunki likely to get POSTPONED. #Prabhas' #Salaar to get a SOLO record release."
Additionally, Lets Cinema shared their insights on the platform, stating, "Reports suggest, #Dunki might get postponed from December 22nd due to delayed post-production timelines. Awaiting official confirmation."
Aakashavaani posted, "Yes. The talk going around is said to be true. #Dunki most 'Likely' to get postponed. Post-production works are said to be taking time, and the team may not be able to complete the works for the 22nd December release. Official confirmation is awaited."
ALSO READ: Paresh Rawal reveals his excitement, nervousness for 'Hera Pheri 3', 'Welcome 3'; Read details
Shah Rukh Khan's upcoming film "Dunki" is directed by the acclaimed filmmaker Rajkumar Hirani and features Taapsee Pannu alongside Shah Rukh Khan, marking their first on-screen pairing together. On the other hand, Prabhas' "Salaar" is directed by Prashant Neel and features Shruti Haasan and Prithviraj Sukumaran in key roles.
Last Updated Oct 13, 2023, 10:45 AM IST