Lavanya Tripathi opts out of 'bold' webseries before impending wedding to fiance Varun Tej
The actress is all set and is already making her career decisions wisely now that she is about to get associated with the prestigious Konidela family. She recently opted out of a bold webseries ahead of her much-awaited and impending wedding to Varun Tej.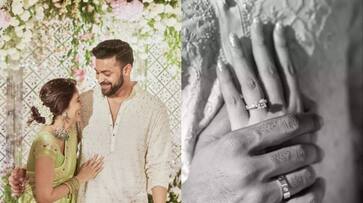 Rumours of a forthcoming wedding between actor Varun Tej and actress Lavanya Tripathi have been buzzing in the entertainment world. It appears that the reports are not without merit. Preparations for the union are reportedly in full swing, with fans and media outlets eagerly anticipating the nuptials set to take place later this year. Lavanya Tripathi, soon to be a part of the illustrious Konidela family due to her impending marriage to Varun Tej, has reportedly made a significant career decision in light of her upcoming role as a daughter-in-law. According to sources, Lavanya is pondering about regulating her film offers post-marriage to avoid any potential controversies. Already, she has stepped down from some films following her engagement in June.
ALSO READ: Karan Johar gets 'emotional'; asks for 'chance' from his trolls
One notable instance of this decision came when Lavanya was set and slated to star in a web series that required her character to be bold. In light of her impending familial ties to a prestigious film dynasty, she chose to opt out of the project. Lavanya returned the advance payment to the producers and encouraged them to find a replacement for her role, emphasizing her commitment to her new family's reputation.
The engagement of Varun and Lavanya happened on June 9 in an intimate ceremony held in Hyderabad. As per reports, the wedding is rumoured to be scheduled for November and is said to be a destination wedding set against the picturesque backdrop of Italy.
The love story between Varun Tej and Lavanya Tripathi blossomed on the sets of their first film together, Mister. Speaking about their relationship, Varun shared that their friendship gradually transformed into love. Despite being a private person, the parents of Varun Tej were aware of their bond, which remained under wraps until they officially announced their engagement.
ALSO READ: The Great Indian Family: Vicky Kaushal starrer to release on THIS date; Read more
Last Updated Sep 12, 2023, 4:02 PM IST