Karan Johar gets 'emotional'; asks for 'chance' from his trolls
The noted filmmaker is also basking in the glory and success of his latest directorial comeback film 'Rocky Aur Rani Kii Prem Kahaani.' In a recent interview, Karan Johar opens up on being emotional and vulnerable as he asks for a fair chance from his trolls.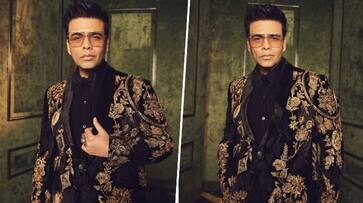 Karan Johar is undoubtedly one of the most talked-about celebs in Bollywood. Love or hate him, the filmmaker has come a long way in showbiz. He is an inspiration for people. He has battled against all odds and created a name for himself as one of the most successful filmmakers of Indian cinema. However, she has faced massive trolling, only to come out stronger.
ALSO READ: Actor Kapil Sharma enjoys serene beauty of Nandi Hills in Bengaluru while on vacation
Speaking about the same, Karan shared about being on the receiving end of hate and criticism. He also feels it is 'kind of cool' to hate him. Karan shares, "I am also like pouting at age 50 into a camera. I sometimes wear shiny clothes and walk the red carpet. I am coming across catty on a chat show. I am laughing like a hyena sometimes, which can be annoying. I am everywhere. You put on the TV I am endorsing a product. I am judging a reality show. I am hosting a talk show."
However, the Kuch Kuch Hota Hai filmmaker also shared a message for his haters. He added, "Just know I am as vulnerable as you are. I am as emotionally fragile as you are. My heart has been broken in love many a time. I am a single parent, which is a tough job. I lost my father at a young age. I work really hard still and really seek validation. I am just like anybody else. I hope those people who come into my life, the ones who have even hated me, give me a chance because I am not that hateful. I feel there is a lot of love I have to give."
ALSO READ: After Deepika Padukone for Qatar Airways, now Katrina Kaif becomes brand ambassador for Etihad Airway
Last Updated Sep 12, 2023, 3:10 PM IST