The Great Indian Family: Vicky Kaushal starrer to release on THIS date; Read more
"The Great Indian Family" trailer reveals Vicky Kaushal's character's shocking identity twist, set to release on September 22. Manushi Chhillar stars alongside him, promising a unique family entertainer with a heartfelt narrative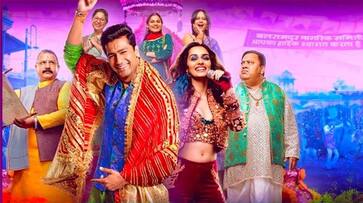 The much-awaited trailer for Vicky Kaushal and Manushi Chhillar's upcoming film, "The Great Indian Family," has finally been unveiled, and it promises an exciting and unexpected storyline. Directed by Vijay Krishna Acharya, this family entertainer is set to hit theaters on September 22.
The trailer kicks off with Vicky Kaushal introducing his character as Bhajan Kumar, a devoted member of a Brahmin family known for their religious practices and rituals. While Manushi Chhillar is introduced in the trailer, her character remains shrouded in mystery. However, as the trailer unfolds, a significant twist emerges that will completely alter the course of the story. Vicky's character discovers that he is not the legitimate child of his parents but actually belongs to a Muslim family. This revelation sets the stage for a captivating tale as his own family disowns him. Audiences can look forward to an intriguing narrative as the characters grapple with this life-altering revelation.
Vijay Krishna Acharya, the film's director, expressed his enthusiasm for the trailer release, stating, "The Great Indian Family is a family entertainer that aims to create a unique community-watching experience. We are thrilled to release the trailer of the film tomorrow! TGIF explores the special, unbreakable bonds that family members share in India. I am eager to witness the audience's reaction to our trailer. I hope they love it, engage with the film, and initiate discussions about the movie's underlying message."
Manushi Chhillar also shared her excitement about the film, saying, "I'm super thrilled that two of my films have been announced today - 'Operation Valentine' and 'The Great Indian Family.' Both films are of drastically different genres. 'Operation Valentine' is an action-drama, an air force action that is distinct from 'The Great Indian Family,' which is a lighthearted, heartwarming family entertainer. Two roles, two shades, two announcements - only gratitude. In both films, viewers will see me in entirely different characters. I thoroughly enjoyed shooting for both films, and I'm eagerly anticipating their release."
Apart from "The Great Indian Family," Vicky Kaushal is set to star in Meghna Gulzar's biopic on Sam Maneckshaw, with an expected release in December. Meanwhile, former Miss World Manushi Chhillar made her debut last year in Akshay Kumar's "Prithviraj."
Stay tuned for the official trailer release of "The Great Indian Family" on September 12, and mark your calendars for its theatrical release on September 22. It's bound to be an unforgettable cinematic experience.
ALSO READ: KH 234: Dulquer Salman, Jayam Ravi to join cast of Mani Ratnam movie?
Last Updated Sep 12, 2023, 3:55 PM IST