Koffee With Karan 8: Sunny, Bobby Deol get candid on 'nepotism' in Bollywood - READ
During the second episode of Koffee with Karan 8, the dynamic Deol brothers duo, Sunny Deol and Bobby Deol, had a frank, deep and totally insightful conversation on nepotism in the film industry with maverick Bollywood filmmaker and host Karan Johar.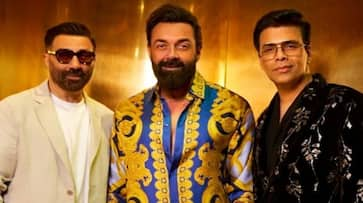 The highly-anticipated second episode of Koffee with Karan 8, dedicated to celebrating the illustrious Deol family legacy, premiered today. The dynamic Deol brothers, Sunny Deol and Bobby Deol shared the spotlight on the show hosted by extraordinary bollywood filmmaker Karan Johar. In an outspoken and captivating no-holds-barred conversation, the siblings went deep inside the highs and lows of their careers, received heart-warming messages from their families, and explored diverse elements of the industry dynamics. As members of a filmy family, Sunny and Bobby also addressed the dominant topic of nepotism in Bollywood.
ALSO READ: Dunki teaser OUT: Shah Rukh Khan as punjabi-munda 'Hardy' gives desi vibes [WATCH]
In the latest episode of Koffee with Karan Season 8, the topic of nepotism took centre stage as Karan Johar asked his guests, Sunny Deol and Bobby Deol, to share their views on the subject. Sunny expressed his perspective, stating, "Now I have come to the conclusion that it's just stupid." According to him, people tend to use the term out of anger or because they can not achieve something, using it as a scapegoat.
Directing his thoughts to Karan, Sunny emphasized that his success stemmed from his talent, not external factors. He highlighted that both he and Bobby have achieved their positions based on their talents and merits. The actor confessed that while his father, Dharmendra, initiated their entry into the industry, it is a common practice for parents to pave the way for their children, considering it a natural aspect of familial support. Sunny reasoned that discussing nepotism without thoughtful consideration does not make sense.
Bobby Deol added to the discussion, emphasizing that their parents were not from the industry and they earned their success through their own efforts. He expressed, "We did not choose to be born to them. We were blessed to be born to them. We did not ask. But we got it." Bobby questioned why they should feel the brunt of it. He encouraged people to look at his career as an example, highlighting that being a star kid does not guarantee success.
ALSO READ: Inside Photos: Shilpa Shetty, Mira Rajput, Sonam Kapoor and more at Anil Kapoor's house for Karwa Chauth
Last Updated Nov 2, 2023, 11:49 AM IST