Koffee With Karan 8: Sara Ali Khan hilariously describes Ananya Panday,Janhvi Kapoor as future wives
Sara Ali Khan, on Koffee With Karan, humorously described Janhvi Kapoor as a wife who'd fast for her husband, Ananya Panday as a bachelorette organizer, and herself as a person who would prefer a private, intimate wedding over an extravagant one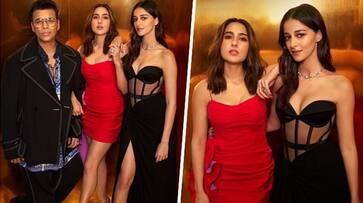 Sara Ali Khan recently appeared on the popular talk show Koffee With Karan Season 8 along with her contemporary Bollywood star, Ananya Panday. During the rapid-fire round conducted by host Karan Johar, Sara was asked what kinds of wives she, Ananya Panday, and Janhvi Kapoor would make, and she provided some entertaining responses.
Sara Ali Khan, known for her witty and fun nature, offered amusing descriptions for each of them. She described Janhvi Kapoor as the type of wife who would observe a vrat (fast) for her husband's good health, specifically at the famous Tirupati temple, a place her husband frequents. For Ananya Panday, Sara suggested she would be the kind of wife who organizes a bachelorette trip but still manages to be on a video call with her husband throughout the event. Finally, Sara herself would opt for a quiet wedding without informing anyone, as she values keeping her love life private and personal. Her response left both the host, Karan Johar, and her fellow guest, Ananya Panday, in splits.
ALSO READ: Koffee With Karan 8: What type of girlfriend is Ananya Panday to rumoured boyfriend Aditya Roy Kapur
It's worth noting that Sara Ali Khan shares a good friendship with both Janhvi Kapoor and Ananya Panday, despite being contemporaries in the film industry and often being compared to each other. She has a close bond with Janhvi Kapoor, as they appeared together on Koffee With Karan Season 7 and have even gone on a fun trip together. Sara and Ananya have also been in the spotlight recently due to their shared workout sessions, and they are frequently seen attending each other's movie premieres and Bollywood parties.
Last Updated Nov 9, 2023, 12:55 PM IST