Koffee With Karan 8: KJo gets emotional watching Ranveer Singh and Deepika Padukone's wedding video (WATCH)
Filmmaker Karan Johar talked about being single and lonely after watching Ranveer and Deepika Padukone's wedding video on Koffee With Karan 8. Karan says, "Every day, I wake up and a little part of me feels that vaccum."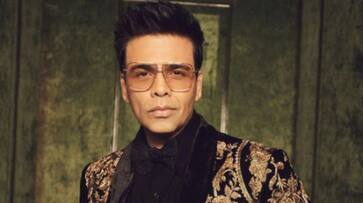 Karan Johar broke down on Koffee With Karan 8 after watching Deepika Padukone and Ranveer Singh's emotional wedding video. The actors' gorgeous wedding film was broadcast in the first episode of KWK 8, and it was everything that dreams are made of. The pair not only let fans in on their wedding rituals, but they also spoke up about their feelings for one another. Karan was moved to tears after seeing the beautiful wedding video. While he was thrilled for Ranveer and Deepika, the filmmaker stated that he felt lonely at the same time.
The Koffee With Karan host said he has a similar love story for himself and intends to reveal it to the public one day. "I am not in a relationship and I am kind of single. It just makes me feel like what I am losing out on not being in one. You don't have a partner of your own to share the nothings of your day with. And every day, I wake up and a little part of me feels that vaccum," Karan Johar admitted.
"I have my kids and mom but when I see this and I see you, and I know relationships are tough, but that soul connection with a person that you can wake up with, hold their hand and see your day through tough times… I don't think I've had a moment like this on my own show. I felt so happy for you and I felt so alone yet. I hope this manifests into, I hope I have a story to tell. The happiness and joy I saw, and I know it's not easy," he added.
He stated that Ranveer and Deepika work in, balancing their relationship in an industry like Bollywood is not difficult. He did, however, commend them for making it happen. Fans were moved to tears by the touching confession.
Social Media Reactions:
"This was the most genuine episode of all the seasons. Because of energy and purity of ranveer and Deepika relationship which was shown. Plus felt bad for Karan when he narrated his life which is still incomplete," a fan wrote. 
"Watching #KoffeeWithKaran and this interview with Deepika and Ranveer might be the best episode. From the wedding snippet to Karan getting overwhelmed with emotions. It's just so beautiful," added another.
 "The first episode was so emo i was so not ready for this! that wedding video and what karan shared afterwards. just melted my heart," a third fan wrote. "He seemed genuinely touched by Deepika and Ranveer's wedding video, yearning for someone to share his rich but lonely life. Love is a universal right for everyone," a fourth fan wrote.
Koffee With Karan 8 episode with Ranveer Singh and Deepika Padukone is now streaming on Disney+ Hotstar.
Last Updated Oct 26, 2023, 8:07 AM IST