Koffee With Karan 8: Alia Bhatt, Ranbir Kapoor to become parents again? Here's what we know
Kareena Kapoor suggested Alia Bhatt to have another kid so that she and Ranbir can have one baby to them just like Saif is with Taimur and Kareena is with Jeh. Alia blushes at the suggestion but silently agrees to the the concept of having a second child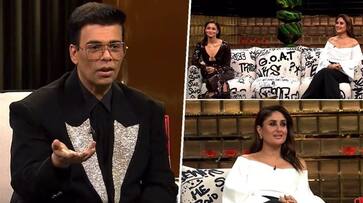 Koffee With Karan season 8 is back and how! After three episodes featuring Ranveer Singh- Deepika Padukone, the Deol brothers, besties Sara Ali Khan- Ananya Panday, host Karan Johar is back is back with the 4th episode of this season featuring Alia Bhatt and Bebo aka Kareena Kapoor Khan. The 'Nanad'- 'Bhabhi' duo were on fire with Kareena went on to say that she is nobody's 'bhabhi'.
Ranbir Kapoor's equation with daughter Raha
The episode started with questions pertaining to the 'sunshine' of Alia and Ranbir's life, Raha. Alia Bhatt revealed that more than her, it's Ranbir who is more obsessed with her. She also added that other than feeding Raha, Ranbir is doing everything possible and he is the 'burp' specialist. 
Karan Johar agreed that Ranbir is so beautifully obsessed with Raha, that it's difficult to take ones eyes off them. Karan added that if for a year Ranbir took break from acting and just sat at home doing nothing and taking caring of her, he would be at his happiest. Alia added that when both of them are at home, they would fight between themselves as to who gets to hold Raha for the longer time. To this, the ever beautiful Kareena added that it's a sign for them to have another baby so that both of them can have one of each. To this Alia blushes and makes a sign that she agrees to Kareena's advice.
ALSO READ: Kareena Kapoor's savage reply to Karan Johar asking if Deepika is her 'competition' is unmissable - READ
Saif Ali Khan's relationship with Tamiur
Reflecting on her and Saif's equation with their sons Taimur and Jeh, she gave an insight to how they are with their kids. She revealed that Taimur is more with Saif, he is calmer and quieter and has his own relationship going with the paps just like Saif does. Jeh on the other hand, is a little storm and takes the whole house by a whirlwind and he is more of a Kapoor. 
Last Updated Nov 16, 2023, 11:44 AM IST