Jailer: Japanese man's dance moves on Tamannaah Bhatia's 'Kaavaalaa' go VIRAL on internet
The dance clip got posted a week ago, and it received an overwhelmingly positive response from social media users. This dance video of a Japanese man impersonating velvety dance moves on Tamannaah Bhatia's hit Kaavaalaa song went VIRAL on social media.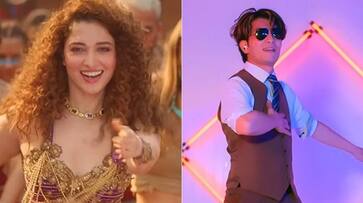 The song 'Kaavaalaa' from the movie 'Jailer', starring Tamannaah Bhatia and Rajinikanth, has become a globally trending superhit, compelling the hearts of fans across the globe. The dance moves featured in the song are being imitated in dance studios as the film and Kaavaalaa song are constantly gaining immense love and are becoming a big unstoppable rage in the world. Tamannaah's appearance in the song is captivating, leaving a lasting impression. Numerous influencers on social media have shared videos of themselves dancing to this catchy tune.
ALSO READ: Jailer on OTT: Netflix or Prime Video? When and where can you watch Rajinikanth's superhit film?
Now a new dance video related to this trending song has captured the attention of social media. In this video, a Japanese digital creator Kaketaku has effortlessly imitated Tamannaah's dance moves from the song. His dance video went VIRAL on the internet. The netizens and fans loved his dance moves which blended Tamannaah's hook step and his own unique twist to it, which got rave reviews and accolades from fans.
Kaketaku, according to his Instagram bio, is a dancer and choreographer, shared the video on Instagram with a caption that reads, "Kaavaalaa from Japan." He went to great lengths to imitate the same dance steps that Tamannaah Bhatia performed in the movie. The specific dance clip got posted a week ago and has received an overwhelmingly positive response from the internet, with many expressing their admiration and love for his performance. The video has garnered an impressive view count of nearly 200,000 on social media platforms. Since being posted, it has got liked more than 29,000 times, and the numbers are only amplifying daily.
ALSO READ: Manipur: Vicky Kaushal's 'Uri' screened on Independence Day, first Bollywood movie to release in 23 years
Last Updated Aug 16, 2023, 11:24 AM IST