Israel-Hamas war: Amy Jackson gets emotional, reacts to ongoing conflict
Amy Jackson reacted to the Israel-Hamas war. She took to Instagram to share a depressing statement about atrocities being done on both sides for the last few days.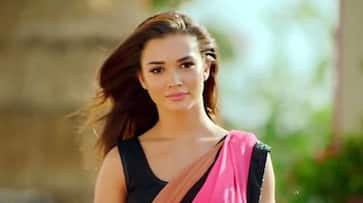 It has been four days since Hamas, a militant group from Palestine, attacked Israel. The two parties are currently at war, resulting in the loss of thousands of lives and severe property damage on both sides. Amy Jackson took to her Instagram page to share her thoughts on the Israel and Hamas war.
Amy Jackson has been vocal in expressing her thoughts about world peace and animal cruelty. Recently, the actress shared her opinion on the ongoing war between the Israelis and Palestinians.
Her post on Instagram read, "The news coming from the Middle East is truly harrowing and a crime against humanity. We can't keep quiet because we're afraid of backlash and criticism. We must use our voices and platforms to condemn terrorism. What is happening in Israel and Palestine right now is unbearable to witness and because of atrocities on both sides, innocent children and their families are being killed (sic)."
Also Read: Pain Hustlers trailer OUT: Emma Blunt, Chris Evans starrer crime drama to release on THIS date
She added, "I'm praying for every frightened child, every terror-stricken mother and father, heartbroken grandmothers and grandfathers, sisters and brothers who are experiencing unimaginable life shattering pain and fear. I'm praying for the innocent. I'm praying for peace (sic)."
She captioned the post, "Dark times (sic)," with a heartbroken emoji.
Also Read: Video and photos: Raj Kundra says 'NO' to pose with Urfi Javed; here's what happened NEXT
On October 10, Prime Minister Narendra Modi called with his Israeli counterpart, Benjamin Netanyahu, during the conflict. He condemned "all forms of terrorism."
His post on X (formerly Twitter) read, "People of India stand firmly with Israel in this difficult hour. India strongly and unequivocally condemns terrorism in all its forms and manifestations."
US President Joe Biden also voiced his support for Israel.
Last Updated Oct 11, 2023, 10:23 AM IST