Imtiaz Ali recalls unconventional approach to making 'Highway' that defined Alia Bhatt's career; Read
Imtiaz Ali's "Highway" was a unique filmmaking experience with minimal equipment and on-site dialogue writing. Alia Bhatt's career took off with this film, which eschewed traditional lighting, showcasing picturesque locations. Ali's next project is "Chamkila''.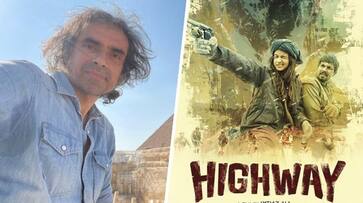 Imtiaz Ali known for crafting romantic narratives with empowered female leads, shared insights into the making of his popular film, "Highway," which starred Alia Bhatt and Randeep Hooda.
For "Highway," Imtiaz Ali embraced a unique challenge by creating the film with minimal equipment, relying on a captivating story to drive the narrative. This distinctive approach led to the version of the film that captivated audiences in theaters. Recently, he shed light on this approach and disclosed that he wrote the film's dialogues on-site, with Alia Bhatt and Randeep Hooda, after arriving at the filming location.
During a recent conversation on "Stumble with Roshan Abbas," Imtiaz Ali elaborated on his decision to create "Highway" with minimal equipment, which primarily consisted of a "camera on a stick" and a deliberate absence of conventional lighting. He shared, "The thought of being able to compete with new directors led me to make Highway. There was no light in the film, except for one or two sequences. There was no light; there was just a camera on a stick. And, this time, I did not write the dialogues of the film. We used to reach the location, and then I would write the scene, and we would shoot it."
Imtiaz Ali further revealed that they faced challenges in reaching picturesque locations, as heavy filming equipment couldn't be transported there. They overcame this obstacle by carrying cameras and taking the actors to these remote spots.
He also detailed how Alia Bhatt and Randeep Hooda would hike up mountains for certain scenes. Alia would often inquire, "Sir bolna kya hai? (What are the dialogues?)" to which he would respond, "I don't know. Let's get there, and by the time we are there, you will know."
Imtiaz Ali's upcoming project is "Chamkila," a film that explores the life and impact of the famous singer Amar Singh Chamkila, celebrated for his music that mesmerized Punjab. Diljit Dosanjh and Parineeti Chopra have been casted for the lead roles.
ALSO READ: Priyanka Chopra wishes cousin Mannara Chopra on Bigg Boss 17 stint; see post
When "Highway" was released, Alia Bhatt was a relatively fresh face in the film industry, having acted in just one film previously. However, "Highway" was a significant film and helped in skyrocket her place in the industry. It helped her solidify her position as an actor in the film fraternity. The film received widespread critical acclaim and achieved success at the box office. Alia's most recent appearance was in Karan Johar's popular film "Rocky Aur Rani Kii Prem Kahaani," in which she starred alongside Ranveer Singh.
Last Updated Oct 20, 2023, 9:58 AM IST