Happy Birthday Raha Kapoor: 5 things Alia Bhatt, Ranbir Kapoor disclosed about their daughter
Alia Bhatt and Ranbir Kapoor married in April 2022 and welcomed their daughter Raha in the same year on November 06.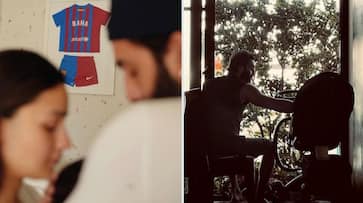 A year ago, Bollywood couple Alia Bhatt and Ranbir Kapoor were blessed with a baby girl, and ever since then, November 06 has been very special for them. Today as their little munchkin Raha turns one, there are five things the couple revealed some exciting incidents about their daughter.
Alia Bhatt writes emails to Raha Kapoor
Earlier this year, during an interview, Ranbir Kapoor stated how Alia Bhatt has been continually penning emails for their daughter Raha Kapoor, adding that he wishes to follow in her footsteps. "Alia is writing her emails every day and I thought I would also write something," he said.
Raha's first words 
During a recent Zoom session with fans, Ranbir Kapoor claimed that his newborn girl has begun to crawl, recognizes objects, and has been lavishing affection on everyone around her. He also mentioned that she has been trying to pronounce 'Ma' and 'Pa' lately. 
Raha's first birthday celebration
Ranbir Kapoor had revealed plans for Raha's first birthday and said that they would organize a small birthday party for her at home with just family and cousins.
Alia Bhatt asked Ranbir Kapoor to examine Raha's eyelashes
Alia recalls asking her husband Ranbir to check on their daughter's eyelashes shortly after her birth. Revealing the reason she said, "I don't have lovely long lashes like my husband. He has such lovely long lashes. When my baby was born, I was like, "Check her eyes, Does she have beautiful long lashes?"
Alia or Ranbir? Who is Raha's favorite?
Ranbir disclosed that as Raha is too young, she cannot recognize individuals and she barely recognizes him now. "I must say that I am her favorite, more than Mama (Alia)." He rejoiced in this fact and exhibited a mischievous side, confessing to some 'politics' at home, telling the nanny to repeatedly shout 'Papa' in Raha's ear, observing that she would say the term before ' mama.' 
Ranbir-Alia wedding
The wedding of Alia Bhatt and Ranbir Kapoor was one of the most romantic and beautiful celebrity weddings that fans watched last year. The couple married in  April 2022 and welcomed their daughter Raha in the same year on November 06.
Last Updated Nov 6, 2023, 12:37 PM IST