Fighter: Hrithik Roshan, Deepika Padukone relish coffee break with film crew in Italy
The highly anticipated film "Fighter" has been creating a stir, starring Hrithik Roshan, Deepika Padukone, and Anil Kapoor. Recent updates from their Italy shoot, including captivating selfies and musical highlights, have fans eagerly awaiting its 2024 release.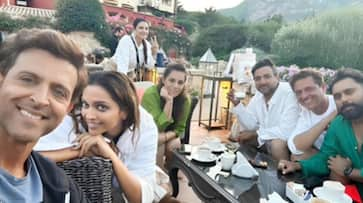 The highly anticipated film "Fighter," featuring Hrithik Roshan, Deepika Padukone, and Anil Kapoor, has been making waves in recent weeks. About two weeks ago, Pinkvilla, reported that Hrithik and Deepika were set to embark on a shooting expedition to Italy, where they would be filming two songs for the movie "Fighter." This news was followed by a delightful sun-soaked image of Deepika from the film's set that quickly went viral on various social media platforms.
Recently, another captivating image surfaced on social media, portraying Hrithik Roshan and Deepika Padukone in a joyous pose alongside the film's director, Siddharth Anand, choreographer Bosco Martis, and other members of the crew while in Italy. The snapshot captured a serene moment where Hrithik was engrossed in taking a selfie, while Deepika gracefully posed beside him. Seated around a table, the ensemble, which included Siddharth Anand, Mamta Anand, and Bosco Martis, enjoyed a delightful coffee break together. The backdrop of the picturesque Italian scenery further added to the charm of the moment.
Hrithik was attired in a blue tee complemented by a black hoodie, while Deepika looked elegant in a white ensemble paired with black slippers. Their infectious smiles illuminated the frame as they posed for the heartwarming photograph.
Meanwhile, Pinkvilla had previously reported that Hrithik and Deepika were scheduled to shoot two songs in Italy for "Fighter." One of these songs is a high-energy dance number, akin to the popular track "Ghungroo" from the movie "WAR." As reported by Pinkvilla's sources, this stylish song, crafted by renowned composers Vishal and Shekhar, is expected to become the talk of the town upon its release. The choreography for this song is being handled by the talented duo of Bosco and Ceasar, and it is rumored to feature multiple catchy hook steps performed by the two lead actors. Following a rigorous five-day shoot for this song, Hrithik and Deepika are slated to relocate to another picturesque location in Italy to film a heartfelt love ballad, adding further depth to the film's musical dimension.
"Fighter" is a grand project envisioned as a trilogy, with production led by Siddharth Anand and Mamta Anand under their banner, Marflix Entertainment, in collaboration with Viacom 18. Directed by Siddharth Anand himself, the film is set to hit theaters on January 25, 2024, promising an exciting cinematic experience for fans and enthusiasts alike.
ALSO READ: Vijay starrer Leo's pre-booking to begin on THIS date; Check
Last Updated Oct 4, 2023, 11:03 AM IST