Did Ranbir Kapoor shave his head and quit smoking for Animal? Here's what actor said
A few hours ago, in a live session, Ranbir Kapoor said he changed his lifestyle entirely for Sandeep Vanga Reddy's film Animal. It included him shaving his head and quitting smoking.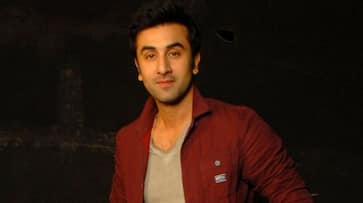 Ranbir Kapoor is preparing for Sandeep Vanga Reddy's action feature Animal. Rashmika Mandanna, Anil Kapoor, Bobby Deol, and Tripti Dimri also feature in the action crime flick. With the release of posters, a teaser, and a song, the film's creators have generated anticipation among fans. The story follows a man who has a rocky connection with his father.
Ranbir made a considerable physical alteration to immerse himself in the persona thoroughly. In a video posted on X (previously Twitter), the actor discussed how he has altered his lifestyle to match the character. "For Animal, I had shaved my hair! For the last scene, I had done that. So now I am growing my hair. Since I am not working on any film, I am eating a lot, and not following any diet. I have changed my entire lifestyle. I have quit smoking, so I am eating a lot of chocolates," he said.
Also Read: Arjun Kapoor wishes girlfriend Malaika Arora on her birthday, shuts breakup rumors
According to a report in TOI, Ranbir described his next film Animal as his "darkest project to date." He went on to say that the film's gloom stems not from his playing a psycho murderer, but rather from the character's mind's unfathomable intricacy and unusual ways of functioning.
Also, he added, "It is not somebody who I am or can relate to. It was very interesting for me to play him on screen because it was a very new, original character. I am glad I collaborated with Sandeep on this because I got a lot from him, about heroism, about characters, and about a grey part like this."
The picture, which is set in the underworld, will be released in theatres on December 1. Sandeep Reddy Vanga's Animal has got its teaser exhibited on New York's famed Times Square.
Also Read: Ranbir Kapoor finally talks about Alia Bhatt's lipstick statement
The teaser, which lasts more than two minutes, begins with Rashmika and Ranbir, the film's major protagonists, debating whether they want to have children. Following that, the teaser shows Anil Kapoor's portrayal of Ranbir's angry father. Ranbir calls him the 'wonderful father.' He then tells Rashmika that she may ask him anything and he will answer honestly, but she must never bring up his father. Following that, we see violence, automobile chases, and action.
Last Updated Oct 25, 2023, 9:28 AM IST