Ranbir Kapoor finally talks about Alia Bhatt's lipstick statement, which she gave during her makeup tutorial
Bollywood actor Ranbir Kapoor is all set for his next release Animal, featuring South actress Rashmika Mandanna, Anil Kapoor and Bobby Deol. The movie is releasing on December 1.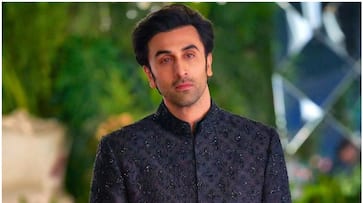 Ranbir Kapoor will be next seen in Animal alongside Rashmika Mandanna. The film teaser has been revealed, and it has only heightened fans' enthusiasm. Animal's teaser has been published on Times Square Billboard today, on the auspicious occasion of Dussehra. The footage was also uploaded on T-series' official Instagram account.
The teaser was published to celebrate with Ranbir Kapoor's birthday. The actor plays the lead in the film, which marks his debut cooperation with filmmaker Sandeep Reddy Vanga. Rashmika Mandanna, Anil Kapoor, and Bobby Deol also appear in the film. Animal is Ranbir's second film of the year, following Tu Jhoothi Main Makkaar, and Sandeep's second Bollywood feature, following Kabir Singh. 
Also Read: (Watch) Malaika Arora shares glimpses of her 48th birthday party; take a look
The drama is led by an aggressive Ranbir Kapoor, who plays a man who is emotionally and physically mistreated by his father but does not hold it against him. Instead, he defends him and even seeks his approval. The teaser then shows Ranbir's character maturing into a mobster and battling 'Lord' Bobby Deol (as indicated on the film's Wikipedia page).
Surprisingly, the actor was spotted chatting with his fans a few hours ago, and he opened up on numerous topics, including dealing with criticism around him. He stated that negativity is highly necessary, especially because it generates equilibrium.
Ranbir Kapoor said, "Hey, m not on social media so I don't have to need to deal with it which is a great thing. But I feel negativity is very important especially if you are an artist and if you have some work out there I think both need to exist because then that creates a balance. You know sometimes a lot of things are written about you as an actor, a lot of opinions are made which are not necessarily true and if you take it for a pinch of salt because I this image of mine which has been created by the movies or the characters I play or by media is something that I don't own." 
Also Read: Vijay's Leo overtakes Leonardo DiCaprio's Killers Of The Flower Moon across the globe - READ
Kapoor added, "It's owned by the public, it's owned by people who like my work or dislike my work and they are allowed to say anything about me as long as they give my work a chance you know as long as I can prove to them as an actor and that has always been my focus is just to act. Recently, I was reading some article about being toxic and something relating to some statement I made and I understand this. And I am on the side of the people who are fighting for the toxic masculinity, if they use me as the face of it, it's fine because their fight is bigger than just me feeling bad about them having an opinion about what I said."
What was Alia Bhatt's statement?
Alia Bhatt's makeup tutorial over applying lipstick created quite a controversy on the internet when she said how her husband Ranbir asked her 'Wipe It Off' on her lips. She also revealed that Ranbir Kapoor disapproves of her wearing lipstick. Ranbir's remark sparked outrage, with some netizens labelling him as a giant red flag for imposing conditions to his wife.
Last Updated Oct 25, 2023, 8:39 AM IST