Delhi Elections 2020: Bollywood actor Taapsee Pannu casts vote; encourages voters to turn up
Bollywood actor Taapsee Pannu cast her vote in Delhi and posted a picture of her with family displaying inked fingers, urging voters to exercise their right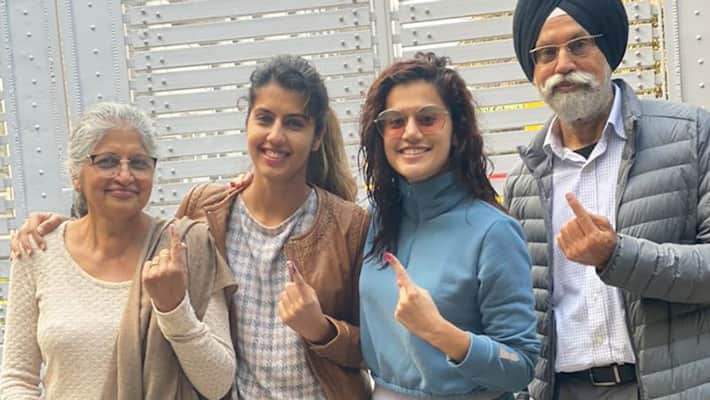 New Delhi: 'Thappad' actor Taapsee Pannu, made it to the polling station and cast her vote in Delhi today.
The Bollywood actor was accompanied by family members on polling day for the 2020 Delhi Assembly elections.
Pannu also took the opportunity to pose for a picture with family, which she shared on Twitter and Instagram
Urging voters to turn up and exercise their right, the Thappad actor used pointed out that every vote counts.
"'Pannu Parivaar' has voted. Have you ? #VoteDelhi #EveryVoteCounts," she captioned the post on Instagram, which showed her family displaying their inked fingers.
Taapsee donned a casual co-ord tracksuit and looked winter-ready.
The actor flew to Delhi with her mother yesterday, especially to cast her vote. She had even shared a picture taken on the flight.
In the post too, she urged people to vote and participate in the election while taking a break from work, "A short break from work to make sure WE VOTE!" her caption read.
Polling for the 70 seats of Delhi Assembly began at 8 am and concludes at 6pm in the national capital amid tight security.
Voter turnout:
The voter turnout, according to official information, stood at 16.59% at 12:45pm
In 2015, the Aam Aadmi party secured 67 votes in the election with the BJP grabbing the remaining three.
The main contenders in the fray are the Aam Aadmi Party, the BJP and the INC.
Last Updated Feb 8, 2020, 1:17 PM IST