Deepika Padukone's viral picture from 'Fighter' sets ignites internet buzz
Excitement surrounds 'Fighter' as Hrithik Roshan and Deepika Padukone embark on a 15-day filming schedule in Italy. The film, directed by Siddharth Anand, promises both foot-tapping music and breathtaking visuals. A viral photograph of Deepika Padukone on set adds to the buzz.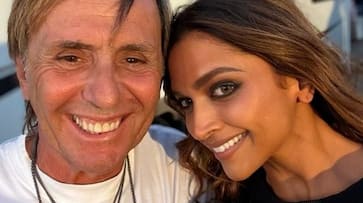 Following the success of "War", director Siddharth Anand's upcoming film "Fighter," featuring Hrithik Roshan and Deepika Padukone, has been generating significant excitement. Being hailed acclaimed as India's first-ever aerial action franchise, the film boasts the presence of the seasoned actor Anil Kapoor in an important role. Recently, there was an exclusive revelation that the lead actors would be shooting two songs in Italy, commencing on September 27. Now, creating a considerable stir on the internet is a photograph of the glamorous Deepika Padukone. This image has sparked a frenzy among fans and online enthusiasts alike.
Hrithik Roshan and Deepika Padukone have embarked on a 15-day filming schedule in Italy for their upcoming movie "Fighter." During this period, the dynamic duo will be capturing scenes for two distinct songs. Notably, the internet has been abuzz with the circulation of a viral photograph featuring Deepika Padukone, taken on the picturesque sets of Phi Beach, Italy. In this captivating image, DP appears to be engrossed in a photographic moment with a crew member. The actress exudes sheer elegance in the sun-drenched ambiance, donning a stylish black ensemble complemented by subtle makeup. Their joyous smiles while posing for the camera add a delightful touch to the scene.
The shoot schedule of the film, as reported by Pinkvilla will start with a dance number. Their source said "The Italy schedule begins with a dance number in the coming week picturized on Hrithik and Deepika. It's a foot-tapping dance number on the lines of Ghungroo from War, with the leading pair looking their best. The stylish song, composed by Vishal and Shekhar, will be the talk of the town once launched."
Furthermore, the source shed light on the director's penchant for crafting visually captivating and melodically enchanting songs. Drawing a parallel to Siddharth Anand's debut film, the source highlighted that his movies have consistently excelled in terms of both tunes and visuals. Iconic songs like "Khuda Jaane," "Meherbaan," "Ghungroo," "Jai Jai Shiv Shankar," "Besharam Rang," "Tujhe Bhula Diya," and many more have left a lasting impact. Therefore, "Fighter" is anticipated to follow in the same tradition of excellence.
The source also revealed that the dance number, choreographed by the renowned Bosco and Ceaser, will feature multiple catchy hook steps performed by the lead duo. Following the completion of this high-energy dance shoot, Hrithik Roshan and Deepika Padukone will come together once again to shoot a heartfelt love ballad.
ALSO READ: Animal: Prabhas heaps praise on Ranbir Kapoor, Rashmika Mandanna starrer teaser; calls it stunning
Last Updated Sep 29, 2023, 11:28 PM IST