Scoop: Karishma Tanna nominated for Best lead actress in Hansal Mehta directorial for Busan Film Festival
Karishma Tanna is the sole nominee from India in the Best Lead Actress category at the 2023 Busan International Film Festival for her role in "Scoop," expressing her gratitude and excitement for the recognition, she pens down heartfelt thanks to her cast and crew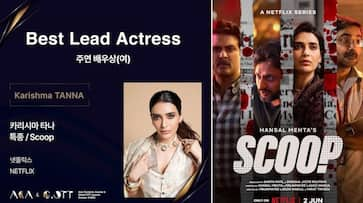 The Busan International Film Festival (BIFF), a prestigious event held annually in Busan, South Korea, is set to take place from October 4 to 13, 2023. Among the array of international movies and talented artists nominated, Indian actress Karishma Tanna stands out as the sole Indian actress nominated in the Best Lead Actress category. Her nomination is for her outstanding performance in the web series "Scoop," directed by the renowned filmmaker Hansal Mehta.
Karishma Tanna, who initially made a name for herself in the television industry before transitioning to films, is undoubtedly thrilled about this recognition. She is set to join the crème de la crème of the global film industry at the upcoming festival. Expressing her gratitude to director Hansal Mehta for entrusting her with the role, Tanna shared her excitement with ANI, saying, "I am incredibly happy and overwhelmed by the response 'Scoop' has received. Playing the character of Jagruti Pathak has been an enriching experience, and it will always hold a special place in my heart. I am thankful to director Hansal Mehta for believing in me and giving me the opportunity to be a part of this incredible project."
Notably, "Scoop," the crime-drama series that weaves an intriguing and compelling narrative centered around a journalist, has also garnered recognition in the Best Asian TV Series category.
Tanna took to her social media to express her exhilaration and gratitude after the official announcement by BIFF. Her social media post read, "Feels surreal even typing this. Wow! This is an honor for me. I am so happy to be nominated, especially in a league of other amazing talents. Thank you for the zillionth time @hansalmehta for giving me this part. Thank you @netflix_in for trusting in me. Thank you @castingchhabra. And special thank you to my entire team of #Scoop #teamscoop."
ALSO READ: Jawan song 'Aararaari Raaro' OUT: Deepika Padukone as Aishwarya tugs at heartstrings in soulful performance
Karishma Tanna's journey in the entertainment industry has been remarkable. She gained recognition for her roles in popular TV shows like "Naagin 3" and "Qayamat Ki Raat." After establishing herself in the television realm, she made her film debut with "Dosti: Friends Forever" in 2006. Her career reached new heights with the success of movies like "Grand Masti" and "Sanju."
Karishma Tanna's nomination at BIFF 2023 is a testament to her talent and dedication to her craft, and it undoubtedly marks a significant milestone in her career.
ALSO READ: Singham Again: Ranveer Singh shares BTS of Rohit Shetty- Ajay Devgn cop film; seen in Simmba mode
Last Updated Oct 1, 2023, 12:23 PM IST