BTS singer V aka Kim Taehyung's 7-year-old dog, Tan undergoes heart surgeries; makes fans emotional with post
Tan, the seven-year-old dog of BTS vocalist V (Kim Taehyung), has had two heart operations that were unsuccessful.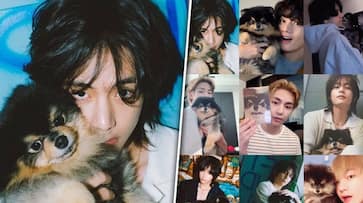 The BTS singer V, whose real name is Kim Taehyung, turned his teary-eyed when he disclosed that his dog, Yeontan, had undergone two unsuccessful heart surgeries. In 2017, Taehyung introduced his dog to the ARMY followers. Yeontan, who is seven-years-old today, has a heart issue and has undergone two surgeries, according to TaeTae, who recently made an appearance. The Winter Bear singer was talking to a cat parent on an episode of Pixid when he mentioned about his dog. "I have a pet Pomeranian named Kim Yeontan. He's been with me for 7 years," he revealed. "Tan has a bad heart and had surgery twice. But both times it was unsuccessful. Every time it was unsuccessful, he could have died during the surgery. But his will kept him alive. I was so grateful that he fought for his life," he added.
ALSO READ: 'Maybe photoshop': Alia Bhatt faces flak from netizens for turning 'unrecognizable' in recent magazine cover
Fans were moved by his admission, and many noted how much more special Taehyung's choice to feature Tan in the artwork for his new album, Layover, had become as a result. Making Yeontan the face of his album is such a noble deed; it ensures that Yeontan will always be remembered in the prettiest way. Yeontan and Taehyung's first album will always be connected. On X (formerly known as Twitter), a BTS fan wished Tan and Tae would spend the most time together. "Taehyung loves yeontan so much he's literally making memories with tan even his first album as soloist, dedicated a whole album for him. This is why we need to do our best too cuz if he wins, tan wins too," another user said.
ALSO READ: Kalki Koechlin opens up on divorce with Anurag Kashyap; throws light on their current relationship
Last Updated Sep 3, 2023, 1:57 PM IST