Border 2: Sunny Deol, Ayushmann Khurrana to collaborate in sequel to epic war drama? Here's what we know
Get ready for the epic sequel! Sunny Deol and Ayushmann Khurrana in talks to headline 'Border 2,' set to be India's biggest war drama. Details inside.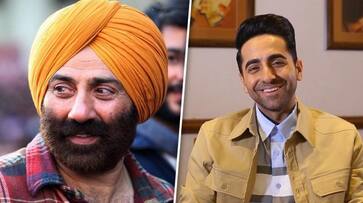 Border 2 Movie Cast Update: Following the phenomenal success of "Gadar 2," Sunny Deol has embarked on an ambitious mission to breathe new life into some of his blockbuster films through sequels. Among this exciting lineup is the much-anticipated "Border 2." The wheels of pre-production are already in motion, with Sunny Deol reprising his role as the lead protagonist. Remarkably, the original film's director, JP Dutta, has returned to steer this cinematic ship once more, intensifying the anticipation surrounding the project. As the pieces of the puzzle fall into place, the spotlight is on assembling a star-studded cast that can match the grandeur and impact of the 1997 classic. In their quest to create what could possibly be India's most colossal war drama, director JP Dutta and producer Bhushan Kumar are leaving no stone unturned. This ambitious vision necessitates a cast of epic proportions, akin to the iconic ensemble from the original film.
As reported by Pinkvilla, discussions are currently in advanced stages to bring Ayushmann Khurrana on board to share the screen with Sunny Deol in this monumental cinematic endeavor. This potential casting collaboration is nothing short of a casting coup, and it underscores the magnitude of the canvas that the filmmakers are painting. Given the grandeur of the project, it is expected that several popular faces will unite to headline what could be the most significant sequel in the history of Indian war dramas. While Sunny Deol will rightfully take center stage in the narrative, the additional cast members will be chosen for their ability to draw audiences to theaters. According to the report, "Border 2" is presently in the scripting phase and is slated to commence filming in the middle of the upcoming year. The filmmakers are diligently working to secure the participation of several popular actors before making the official announcement next year.
In the midst of all this excitement, Sunny Deol has also shared insights into his upcoming projects. He has collaborated with director Rajkumar Santoshi for another period war drama, titled "Lahore 1947," which is being produced by none other than Aamir Khan. Additionally, Sunny has another action-packed film, "Baap," in the pipeline. The resurgence of '90s nostalgia is becoming increasingly evident, with the anticipation building around the shaping of "Border 2." Fans are eagerly awaiting this cinematic spectacle, and we will be closely monitoring all the latest updates on this highly anticipated film. Stay tuned!
ALSO READ: Mahadev app scam: Ranbir Kapoor not accused, just called for questioning by Enforcement Directorate
Last Updated Oct 5, 2023, 11:56 AM IST