Bigil trailer feast tomorrow: 'Are you ready to whistle for Tamil superstar Vijay's flick?' ask fans
The trailer of Tamil superstar Vijay's upcoming film Bigil is set to hit social media platforms at 6pm tomorrow. The trailer was supposed to release in the first week of October. The wait has been long, but fans' excitement seems huge, going by social media trends.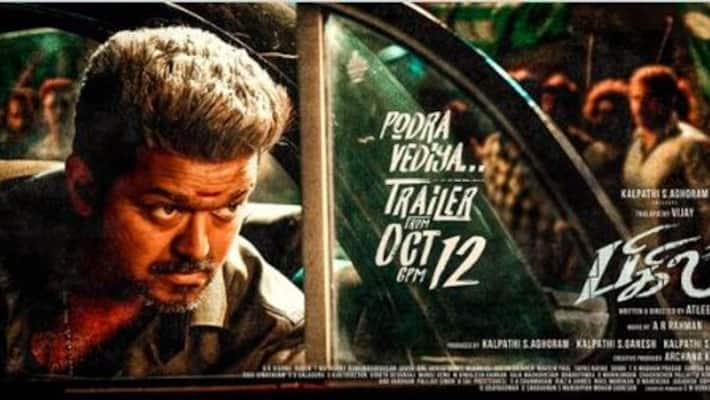 Chennai: Fans have already begun the festivities for Tamil superstar Vijay's Diwali release Bigil. Right since the audio launch of the film on September 20 when director of the flick Atlee announced that the trailer would be launched by the first week of October, fans have been waiting, only to be disappointed each time.
In an interview to a Tamil magazine, producer Archana Kalpathi explained the reason behind the delay. The completion of the film rests with the directorial team and only when they are ready, can the producer give an update, she had said.
However, Archana took to Twitter later to announce that Bigil's trailer would be out at 6pm on October 12.
We are now 24 hours away and the countdown has already begun. Fans have taken to Twitter to begin their much-awaited feast, and need we tell you why #BigilTrailerFeastTmrw is trending!
Vijay's fans have their plan in place. Each directing the other to start the trend at 3 pm on October 12 so that their raging desire ('verithanam' in Tamil) for their hero sets social media platforms on fire much before the scheduled trailer release. And 'Verithanam' is one of the songs in Bigil, sung by Vijay (fondly known as Thalapathy) himself.
The trailer is specially being screened in some of the theatres in Tamil Nadu, from Rohini Silver Screens in Chennai to Venus Theatre in Vellore.
Bigil is all about women's football. The cast and crew are waiting on the pitch, ready to strike. The audience is the referee and the fans are hoping that with Vijay's kickoff, it would be a goal!
 
Last Updated Oct 11, 2019, 7:44 PM IST