Bigg Boss season 10: Drone Pratap seen on Bigg Boss stage, will he enter house?
Formerly renowned figure Drone Pratap, known for motivational speeches but facing credibility issues over drone manufacturing claims, resurfaces on "Bigg Boss" along with Bullet Prakash's sons. Audience vote will determine their entry into the house. The new season features a larger house near Bengaluru and innovative 24-hour live streaming on Jio Cinema.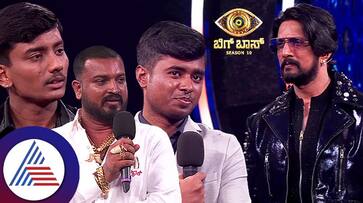 Drone Pratap, a once well-known figure in Karnataka, has resurfaced on the popular reality show "Bigg Boss" after facing controversy. In the past, many parents scolded their children by mentioning his name, while others found inspiration in his words. Pratap was known for his motivational speeches, which even experts and geniuses in various fields respected.
However, the credibility of Pratap's claims about drone manufacturing came into question, leading to several cases being filed against him. After a period of laying low, Pratap has now made an appearance on the stage of "Bigg Boss."

Bigg Boss Kannada 10: Rakshit Shetty's dog 'Charlie' to enter Kichcha Sudeep's reality show; read details
On the same stage, Bullet Prakash's sons Rakshak and Varthur (Hallikar) were also present, and they faced questions from the show's host, Kichcha Sudeep. The selection of contestants from different fields was discussed, with a focus on the trust that people had in Drone Pratap and whether he had deceived them.
The audience's vote will determine whether these three contestants will enter the Bigg Boss house, and Sudeep mentioned that if they receive less than 40 per cent of the votes, they will be sent home from the stage. The audience is eagerly awaiting the outcome of this decision.

Bigg Boss Kannada Season 10: Veteran actor Tennis Krishna, actress Ranjani Raghavan among top contestants
The grand opening of "Bigg Boss" will be broadcast on the Colors Kannada channel at 6:30 pm today. This season of the show features a brand-new house, different from previous seasons, located near a large banyan tree on the outskirts of Bengaluru. The house covers an impressive 12,000 square feet, making it larger than the houses in other versions of Bigg Boss. Sixteen contestants are set to participate, and fans are excited about what this season will bring.
The show will air every night at 9:30 p.m., with episodes available for an hour on TV. Additionally, for the first time, "Bigg Boss Kannada" will be available on Jio Cinema, where viewers can watch a 24-hour live broadcast of the happenings inside the house. This marks an innovative move by Bigg Boss, allowing fans to keep up with the latest developments.
Last Updated Oct 8, 2023, 3:40 PM IST