Bengaluru: Kiccha Sudeep wins hearts after meeting specially-abled fan on Kannada Bigg Boss set
Sandalwood superstar Kiccha Sudeep met Deepika, a specially-abled fan who was on a hunger strike and adamant on meeting
the Kannada actor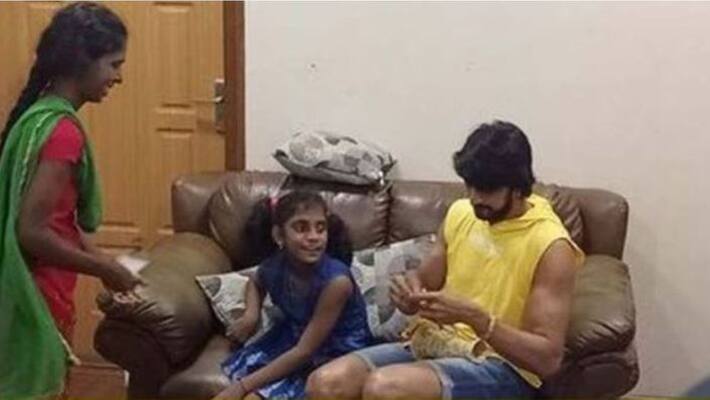 Bengaluru: Sandalwood superstar Kiccha Sudeep has been busy with the shooting of Kannada Bigg Boss and Hindi flick Dabangg 3. Yet he made some time for his special fan.
Sudeep yet again won hearts with his humble gesture as he met a specially-abled fan on Bigg Boss sets.
Sudeep requested a fan named Deepika to come to Bigg Boss sets and met her. Deepika is a specially-abled child and is a diehard fan of Sudeep.
Deepika was adamant about meeting Sudeep and had given up on eating and drinking until she met him. As a result, Sudeep had to ask Deepika to travel to Bengaluru from Mangaluru to meet him.
Elated on seeing Sudeep, Deepika gave him a big hug and she was welcomed with a bouquet of flowers. Both chatted and played for a while and had a gala time. However, Sudeep turned emotional when Deepika sang the famous song 'Nagutha Nagutha Balu Neenu Nooru Varusha' (which translates to – live happily for hundred years) for him.
Sudeep then asked for a promise from Deepika. Sudeep asked her to take all 10 medicines every day and not to miss eating her food.
Deepika invited Sudeep to visit her house in Mangaluru to which the actor said yes.
On the work front, Sudeep is busy dividing his time between hosting reality show Bigg Boss, gearing up for Salman Khan starrer Dabangg 3 and shooting for his next Kannada movie Kotigobba 3.
According to reports, the actor has completed shooting the main sequences as well as the climax scenes of Kotigobba 3.
 
Last Updated Dec 3, 2019, 1:53 PM IST