Bandra Box Office Collection Day 1: Dileep, Tamannaah Bhatia movie gets a good start
Bandra is a Malayalam drama movie directed by Arun Gopy and written by Udaykrishna. The film stars Dileep, Tamannaah Bhatia, Dino Morea, Lenaa, Mamta Mohandas, Kalabhavan Shajohn, Sarathkumar, Rajveer Ankur Singh, and many more.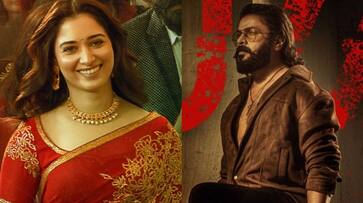 The Malayalam movie Bandra, starring Dileep, Tamannaah Bhatia, and Mamta Mohandas, hit theatres on Friday. Many of them are giving positive responses, while some of them find it an average film. The movie was directed by Arun Gopi.
According to Sacnilk, a film industry tracker, Bandra has earned a first-day collection of approximately Rs 1.00 crore.
Dileep plays "Aala" Alexander Dominic in the movie, Tamannaah Bhatia plays Tara Janaki, Dino Morea plays Raghavendra Desai, Lenaa plays Hemaji, Mamta Mohandas plays Sakshi, Kalabhavan Shajohn plays Mirchi, Sarathkumar plays Veera Raghavan IPS, Rajveer Ankur Singh plays Bala, and Darasing Khurana plays Munna.
Also read: Bandra Review: 7 reasons to watch Dileep, Tamannaah Bhatia movie
The movie evolves with the story of Sakshi, a young director pursuing her dream. When Tara Janaki, a Bollywood actress, tragically dies, Sakshi discovers a new story that intertwines with the life of a hero named Aala. Aala, also known as Alexander Dominique, holds sway over a harbor in Kerala. Despite being an ordinary person, Aala is a dependable leader with remarkable skills, making his story a central focus of the film.
Dileep's portrayal as Aala in Bandra showcases a distinct and mature performance with well-executed action sequences. Tamannaah's casting adds authenticity, while Kalabhavan Shajon and Ganesh deliver commendable performances.
Arun Gopi's direction brings vibrancy and mystery to Bandra, complemented by Udayakrishna's screenplay. The film captures the essence of the '90s with Shajikumar's cinematography and nostalgia. Sam CS's music enhances the overall rhythm, making the movie a memorable experience. Editor Vivek Harshan's cuts contribute to compelling
mass viewing. Bandra stands out for its engaging plot, skilled direction, and stellar cast.
Also read: 'Bha Bha Ba movie': Dileep, Vineeth Sreenivasan starrer first title look poster out
 Bandra is Dileep's 147th movie and also Tamannaah Bhatia's debut in Malayalam cinema. 
Last Updated Nov 11, 2023, 4:55 PM IST