Baanadariyalli REVIEW: Ganesh, Rukmini Vasanth's film shot is Kenya's Maasai Mara, is worth watching?
Baanadariyalli Twitter Review: the movie featuring Ganesh, Rukmini Vasanth and Reeshma Nanaiah in the lead roles is the first Kannada movie ever shot in Kenya's Maasai Mara. The film made its theatrical debut on September 28, 2023. Is it worth watching? Read this now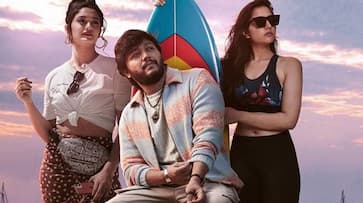 Preetham Gubbi's directorial debut, "Baanadariyalli," a Kannada-language romantic drama film, is produced by Sri Vaare Talkies. On September 28, 2023, the film made its theatrical debut. In this film, Ganesh will portray a cricketer who falls in love with the actress Rukmini Vasanth's character, as depicted in the trailer. According to the filmmakers, Baanadariyalli is a movie about love rather than a love story. The film was meant to be released in 2022, but after several delays, the producers opted to debut it on September 28.
This movie, which stars Ganesh, Reeshma Nanaiah, and Rukmini Vasanth in major parts, is the first Kannada film to be shot in Kenya's Maasai Mara National Reserve. Notably, "Baanadariyalli" marks Ganesh's fourth collaboration with filmmaker Preetham Gubbi.
During an episode of Echoes Of Baanadariyalli, actor Ganesh mentioned how much he liked working in African jungles. He lauded the film's cinematographer, Abhilash Kalathi, for his perseverance and hard work. 
He said he and the film crew used to get up at 4:00 a.m. to start filming the movie. To get to the spot, they used two Safari jeeps. Ganesh shared his experience, saying that the locals of that forest applauded his performance during a shot for a certain moment. Locals began clapping as soon as the director shouted cut, said actor Ganesh. He thanked them and hoped that his supporters and Kannadigas who knew the language would like the film.
During the presentation, the actor also lauded his co-star Rangayan Raghu, who would play a pivotal part in the film. He described it as a fantastic experience. "My favourite scene in the entire film is the last 20 minutes," Kannada actor Ganesh said. He said that the last 20 minutes of the film will leave the viewers breathless.
Arjun Janya wrote the soundtrack, and Abhilash Kalathi handled the cinematography. The highly anticipated release of "Baanadariyalli" offers a thrilling cinematic experience for all filmgoers. 
 
Last Updated Sep 28, 2023, 11:06 AM IST