Are you planning to watch Charlie's Angels this weekend? Read this before booking tickets
Charlie's Angels, starring Kristen Stewart, Naomi Scott, Ella Balinska, will be out this weekend. Here is what international media has to say.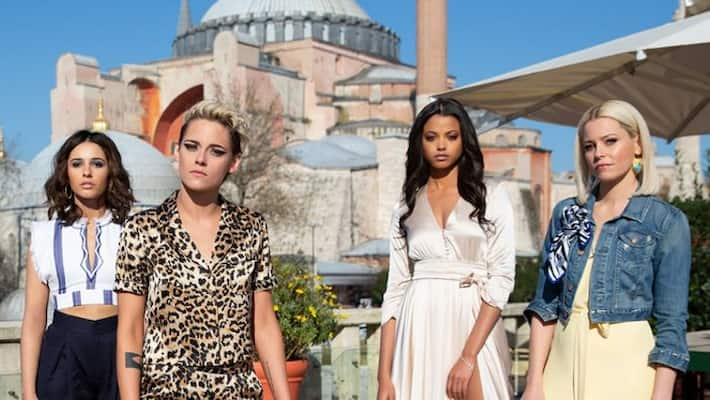 The Angels are back! The highly-anticipated film Charlie's Angels starring Kristen Stewart, Naomi Scott, Ella Balinska is finally out in the west, and it is called as one of the most unexpectedly fun films of the year. 
Looking at the trailer, we can easily say the movie will have all the elements - thrill, drama, action-packed scenes and humour, which will make the moviegoers glued to the screens.
Charlie's Angels is a continuation of the iconic franchise directed by Elizabeth Banks. The three actresses team up to fight against crime worldwide in the upcoming action flick.
 
According to reviews, which came out in west media, the girls are seen taking on action-packed missions with style, sense, and some heavy artillery! One of the film's biggest strengths, and as the title suggests, is that this is female-led action-adventure, which was missing in some recent girl power movies.
The set-up is familiar to the old one where Drew Barrymore, Lucy Liu, and Cameron Diaz were seen packing a punch. In Charlie's Angels reboot, the new generation of women Stewart, Scott, and Balinska seem to be working for the mysterious Charles Townsend. 
Besides action, the movie will also be loved by fashion lovers. According to review, Charlie's Angels has the best costumes, which one can get inspired from. 
Verdict from the international media:
According to IGNIndia, the movie is a fun action-comedy. If you're a fan of good action movies, then you do not want to miss these two hours of pure, silly, cinematic joy. The movie will entertain multiple audiences from young viewers to older ones.
Owen Gleiberman from Variety commented saying, "The new "Charlie's Angels" is a heavier chunk of escape than any previous "Angels" incarnation - if the early-2000s films were pop, this one is metal."
Elizabeth Weitzman from TheWrap, "The real asset Banks brings to the movie, though, is her own perspective. She builds the whole project on a scaffolding of sisterhood that feels so natural, it highlights Hollywood's historic failures in this regard."
Benjamin Lee from Guardian gave 3.5/5 stars saying, "It's better than it could have been while also not being quite good enough to warrant any further instalments."
Scott Mendelson from Forbes gave the movie 6/10: Kristen Stewart, Ella Balinska and Noami Scott are terrific together, the film isn't afraid to be a little cynical and it mostly works as a pulpy female-directed action movie that happens to star three women.
Beandrea July from Hollywood Reporter says, Banks brings Charlie's Angels into the modern age with flair, all the while unapologetically raising a feminist flag, championing female friendships and subtly making a point about the urgency of the ongoing climate crisis.
(Inputs from ANI)
Last Updated Nov 13, 2019, 3:11 PM IST