Arab-Israeli actress Maisa Abdel Hadi arrested in Israel for pro-Palestine social-media post; Read
Arab-Israeli actress Maisa Abdel Hadi detained for "incitement to terrorism" over Gaza-related social media post. She is among many who have been picked up or detained for their Pro-Palestine discussion on social media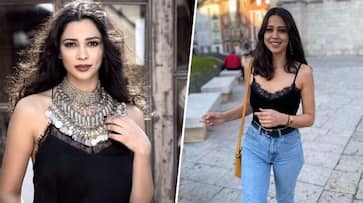 Israeli actress Maisa Abdel Hadi, who hails from the northern Israeli city of Nazareth, has been detained on suspicion of "incitement to terrorism" due to a social media post she made regarding the October 7 attack by Hamas on Israel. This arrest comes amid a growing number of detentions of Arab Israelis for their social media posts related to the ongoing conflict.
In her social media post, Maisa Abdel Hadi allegedly shared a picture of a bulldozer breaching the fence separating the Gaza Strip from Israel during the October 7 attack by Hamas. Her caption, "Let's go Berlin-style," was a reference to the fall of the Berlin Wall in 1989. Israeli authorities have accused her of supporting terrorism.
ALSO READ: Ranbir Kapoor finally talks about Alia Bhatt's lipstick statement, which she gave during her makeup tutorial
Hadi's attorney, Jaafar Farah, who is also the director of the human rights association Mousawat, confirmed the accusations against her. Maisa Abdel Hadi, a 37-year-old actress known for her roles in various series, films, and plays, was placed in custody until Thursday, October 26.
This incident is not isolated, as other Arab Israelis have also faced detention over their social media posts discussing the conflict between Israel and Hamas. Rights campaigners and Israeli police have reported cases of members of Israel's Arab minority and Palestinians in East Jerusalem being fired, expelled from colleges, and arrested for expressing solidarity with Gaza residents. Israel's Arab population comprises approximately a fifth of the country's total population.
Last Updated Oct 25, 2023, 9:15 AM IST