Anupam Kher prays for actor Naseeruddin Shah's health, expresses his wish to work with him, Check Tweet
Anupam Kher took to his social media account and penned an emotional post for actor Naseeruddin Shah who is currently hospitalised owing to pneumonia.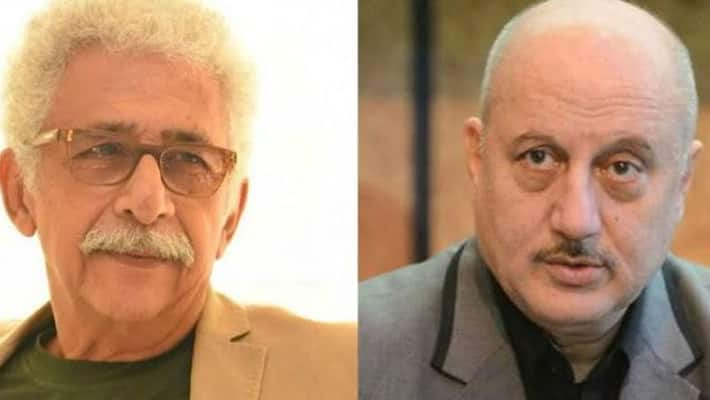 Mumbai: Actor Naseeruddin Shah was hospitalised after he was suffering from pneumonia. He was admitted to Hinduja Hospital in Khar, Mumbai.
Reports say that the actor is currently stable and is responding well to the treatment. As soon as the news broke out, fans and celebrities started pouring out messages for the actor's health.
Actor Anupam Kher also took to his Twitter handle to share a tweet for Shah, praying for his recovery. He also hoped that they work together in future.
He wrote in Hindi, "जनाब नसीरुद्दीन शाह साहब!! कम्बख़्त निमोनिया इम्पोर्टेंस चाह रहा है।इसलिए एक दो दिनों के लिए आपके साथ हो लिया है।जल्दी से झटक दें इसे और ठीक हो जाइए!! बड़े दिनो से आपके साथ काम करने की तलब है।ख़्याल रखिये अपना! आपकी अच्छी सेहत के लिए प्रार्थना और दुआ। (Sir Naseeruddin Shah sahib!! Pneumonia is seeking importance. So it's been with you for a couple of days. Looking forward to working with you since a long time.Take care of yourself! Prayers for your good health.)"
The tweet for Shah surprised quite a few, considering last year's cold war between the two of them. In an interview with The Wire, Naseer had called Anupam a 'clown'. He had said, "Someone like Anupam Kher has been very vocal. I don't think he needs to be taken seriously. He's a clown. Any number of his contemporaries from NFD and FTII can attest to his sycophantic nature. It's in his blood, he can't help it."
Anupam Kher's wife, Kirron Kher, is also undergoing cancer treatment. Recently she was seen in a video shared by son Sikander Kher.
Last Updated Jun 30, 2021, 8:55 PM IST