After Tejas failure, Kangana Ranaut is all set with her new movie; actress calls it 'very unusual, exciting'
Bollywood actress Kangana Ranaut did not divulge much about the untitled film but did say it has a "very unusual and exciting" storyline. Kangana Ranaut was last seen in Tejas.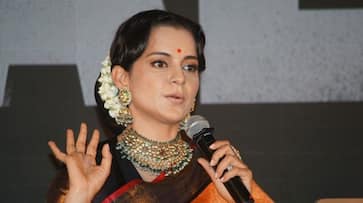 Kangana Ranaut has begun production on her upcoming film. On Saturday, the actress turned to the microblogging site X to inform that she had begun filming for a psychological thriller. Kangana did not divulge much about the untitled film, but she said it had a "very unusual and exciting" plot.
"Today in Chennai we started filming our new film, a psychological thriller. Other details coming soon. For now need all your support and blessings for this very unusual and exciting script (sic)," she wrote. On her Instagram stories, Kangana also shared a photo of the mahurat shot and sought blessings from all. "Need all your love and blessings for our new journey starting today, back with my many favourites," she wrote.
Also Read: Kannur Squad to Theeppori Benny: 7 South Indian movies to watch on OTT
Kangana Ranaut was most recently seen in Tejas. The actress portrayed an Air Force pilot on a terrorism-fighting mission in the film. The film, which was released last month and starring Anshul Chauhan, Varun Mitra, Ashish Vidyarthi, and Vishak Nair in crucial parts, failed to make an impact at the box office.
Kangana will next be seen in Emergency. The actress not only plays a key role in the film, but she also directs it. Kangana will portray the part of former Indian Prime Minister Indira Gandhi in the film. Emergency also includes Anupam Kher as revolutionary leader J P Narayan, Shreyas Talpade as former Prime Minister Atal Bihari Vajpayee, Milind Soman as Field Marshal Sam Manekshaw, and Kangana.
Also Read: Rajneeti to Sarkar: 7 political dramas to watch before election season
Emergency was meant to be released in cinemas on November 24, 2023, but it has already been pushed out until next year.
Last Updated Nov 18, 2023, 12:37 PM IST